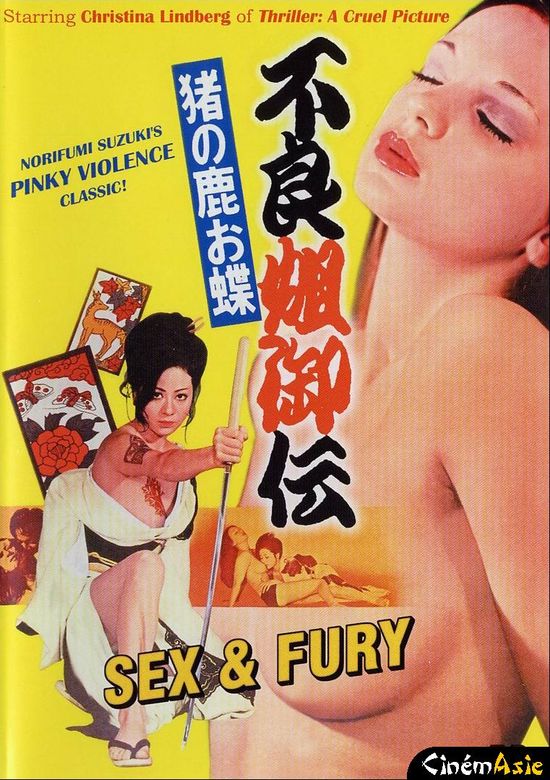 Year: 1973
Duration: 01:28:35
Directed by: Noribumi Suzuki
Actors: Reiko Ike, Akemi Negishi and Ryôko Ema
Language: Japanese | English

Country: Japan

Also known as: Furyô anego den: Inoshika Ochô, Anego den, Sex and Japan, Elder Sister: Ochô Inoshika
Description: Ocho Inoshika – a professional card player and the best thief, pickpocket. Hiding from pursuit a famous anarchist Shunosuke, Ocho encounters with the past, now she has never been closer to a solution of three unknown responsible for the death of her father, a police officer. At this time in the country arrived a Europian spy and the situation is complicated. Her boss, and along with a sadist, has its tricky plans in the cycle of events. On his way Ocho's revenge fight with crowds of yakuza, and all that she knew about the killers – a hint dying father: three cards with images of wild boar, deer and butterflies.
Review: On her eyes killed the dearest to her man. The little girl is all alone in this treacherous world, packed with lies and blood. She has nothing available except for 3 characters that before his death had left her father. It takes 20 years, she grew up among thieves and kartezhnits and turned into a beautiful young woman. But revenge remains, it leaves no attempts to solve the riddle left her a message and find the killers of his father.
In parallel, the second storyline. A young girl from England comes to Japan, that would find their loved one. But the trip was given to her great difficulty – she was a spy, and spies have only one path, the path of lies and humiliation. There should not be a spy's own "I".
Great bloody battles with the use of cold as well as firearms, complemented by a great soundtrack. That only stands, the battle for skating, naked and Ocho dozen
Screenshots:
Download: