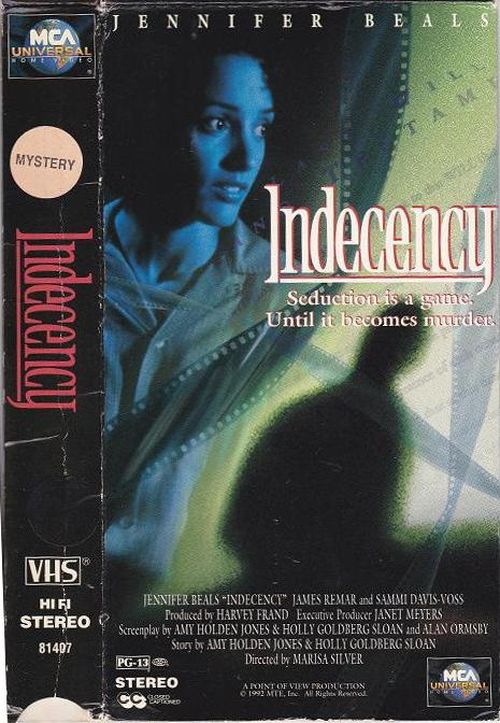 Year: 1992
Duration: 01:22:00
Directed by: Marsia Silver
Actors:  Jennifer Beals, James Remar, Sammi Davis 
Language: English
Country: USA
Also known as:  Der Duft des Todes
Description of Indecency: Ellie, a young talented woman who works in the advertising Agency of his girlfriend Mary Clarkson. The company is not the best, that's depressing Mary. In addition, she had long been in the process of divorce with my husband, who lays claim to a half of its business. Mary nervous, Ellie and Nia, partner Mary on business, trying to support it, but in vain: one night Mary commits suicide. In the absence of the head of the Affairs of the Agency begins to engage in the former husband of Mary – Mick Clarkson. It is a long-standing relationship with Nia.
However, having got acquainted with Ellie, Mick falls in love with her, and she loves him in return. Ambitious and stung by Nia thirsts for revenge: its goal is to take revenge on ex-lover and take possession of the company. She blackmails Mika, detecting its dubious relationships with representatives of the criminal world, but Nia does not suspect how close she was to the solution of the main secret of the tragic and implausible death (or murder?) Mary. To find out the truth can only Ellie…
Review of Indecency: In my continuing quest to watch every film featuring certain actors and actresses I occasionally hit a rough patch and today's stars Jennifer Beals as Ellie Shaw a TV/film editor recovering from a nervous breakdown who gets embroiled in a love triangle and murder plot. Trouble is Beals plays the part with all the charisma and passion of a soggy piece of lettuce, alternating her expressions between moon-eyed retard and scared shitless for most of the flick's thankfully short running time. James Remar on the other hand does his usual character actor schtick and makes it through with only the minimum of professional embarrassment. There's little to recommend here really, it's a humdrum thriller that fulfills Beals contract stipulations circa mid 90's; that any character she plays must have a gun stuck in her face at some point during the film and if at all possible she would like to get her hair pulled and generally be treated rough by her on screen lover.
Screenshots:
Download: