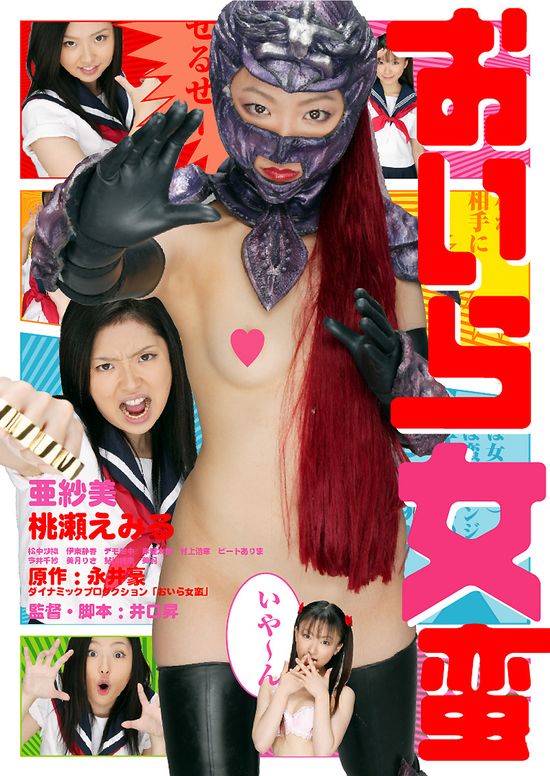 Year: 2006

Duration: 01:01:27
Directed by: Noboru Iguchi
Actors: Asami, Kaori, Demo Tanaka
Language: Japanese | English Sub

Country: Japan
Also known as: Oira sukeban, Fundoshi Corps 2, Sukeban Boy
Description: Suke Banzo – boy . Just looks like a girl . A very beautiful girl . And this is the main problem of his life. All life Sukeban – is a solid fight. Once, a drunken father biker guy gives brilliant advice. Girl change clothes and go to study in one of the elite boarding school for girls . And why not? Probably just get rid of the need to shake your fists . And in addition will always be in the company of nice and friendly females .
At that moment he had no idea that his new institution will rule a secret society of evil lesbian craving world domination . Deadly club "Black Tights ", which obviously will not be happy appearance in their ranks gender spy.
Review: After watching the film just asked myself one question: " To whom it may be fun ? " In the frame and then there are breasts and naked priests " schoolgirls " , some of the actresses really look for 14-16 years , and this is pedophilia . Breasts get out of guns , of severed legs of a girl – guns , guys running around in skirts school , his father falls in love with his son … What is happening on the screen shocking.
The acting – horrible , it feels unnatural .
Overall impression of the films – from a number of " wasted time watching " I put one ball in the film that I finished watching it , and another for something that lasts 60 minutes, so what is happening on the screen does not have time to tire .
Screenshots:
Download: