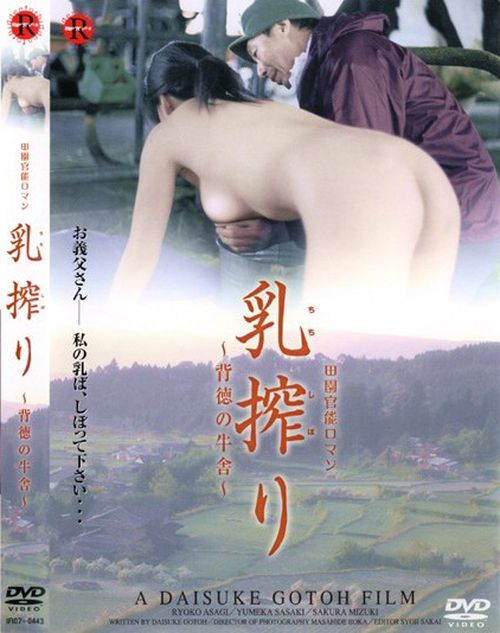 Year: 2003

Duration: 01:00:32
Directed by: Daisuke Gotô
Actors: Ryôko Asagi, Hidehisa Ebata and Haruki Jo
Language: Japanese (English subtitles)

Country: Japan

Also known as: Chikan gifu: Musuko no yome to
Description: Young widow, Noriko, lives with her senile father-in-law, Shukichi, on a farm. He believes his favorite cow, long gone, is still alive. Noriko pretends to be the cow and lets him milk her – a satisfying arrangement for them both. Shukichi's daughter discovers their bizarre relationship and tries to put an end to it. It's known as director Goto's (Scorpion's Revenge,  Zero Woman) best film.
When a farmer Shukichi suffering progressive marasmus , the death of his beloved cow , his daughter Noriko , have recently lost her husband decided to get up early in the morning and , posing as a respectable cow milk let himself (!) , That more is not plunging into a depression of his father. And all this would idyll lasted long if Noriko not bothered And this routine.
The film " Lonely cow weeps at dawn ", filmed in 2003, a little-known Japanese director Daizuke Gotohom is sufficiently original, to put it mildly , a representative of the "pink series " Japanese cinema . According to Freud , "The Lonely cow weeps at dawn " – a film in which the brightest way manifested deviant incest zoofilicheskaya – sublimation for love in a picture of the main characters looks strange places , sometimes even funny , but mostly distorted , because the essence of painting as such escapes from the viewer , but with great pleasure showing extremely unusual for the average mind and okoloeroticheskie erotic scenes shot operator Masahide Ioka very, very effectively , by the way ( they are mainly painting and draws ) .
As romance " Lonely cow weeps at dawn " is rather weak , as the drama is not better , because sympathize or associate themselves with such unusual characters is extremely difficult , but its function to surprise and shock the viewer movie performs brilliantly .
Acting in the film deserves attention , if not , then at least the interest , for the courage Ryoko Asagi ( Noriko ) and Horio Nakamura ( Shunichi ) clearly does not hold and executed them very entertaining characters turned out .
Soundtrack by composer Kazumi Both in the film and minimalistic directed primarily at creating an unusual atmosphere in it .
Particularly recommend this film to view I would not because of its specificity wild , but if you are looking for something shocking , perverse and does not fit into the general framework , the " lonely cow weeps at dawn ," you should definitely please .
Screenshots:
Download: