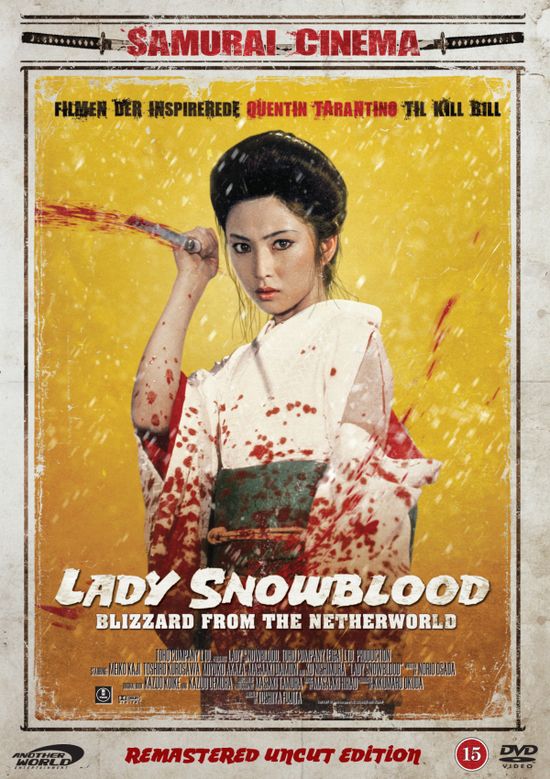 Year: 1973
Duration: 01:36:56
Directed by: Toshiya Fujita
Actors: Meiko Kaji, Toshio Kurosawa, Masaaki Daimon, Miyoko Akaza
Language: Japanese (English subs)
Country: Japan
Also known as: Shurayukihime, Blood Snow, Snow of Blood, Lady Snowblood: Blizzard from the Netherworld
Description: "Madam Snowblood " – one of those films that Tarantino used as his " inspiration " ." And really when you start to watch this movie , could not help think – and it 's brilliant Mr. Quentin in actual fact as we all used to think ? Some scenes are just one to one. Even somehow not on itself becomes. For example, a scene in which a woman is surrounded by four criminals and the camera as it takes everything from her point of view , similar to the same scene in "Kill Bill " when " Deadly Viper " watch swollen Bride, looking down at the camera.
After watching a Tarantino movie , "Ms " seems a bit boring and secondary . Still, Quentin not only quoted the film , but also added something of his own . Improved this story. And if the "Kill Bill" looks the same breath , the " Mistress " is a struggle . No ease in the story. Although the structure is the same – the film is broken into chapters , the chronology is broken, there are painted inserts (not anime !) And flashbacks . The story is similar , but only partly : Yuki , born for revenge , learning martial arts techniques in the old priest , and finally gain strength and experience decides to find and kill all the enemies of his mother … The same theme of revenge , which is disclosed in the " Lady " bad . Main female role performed Meiko Kaji , known primarily for his soundtrack to "Kill Bill" . Plays well and at some point it begins to seem that " Mrs. " – it's just an extended version of the story of O-Ren . They are very much alike ) Of the remaining remembered unless Sanae Nakahara and "Japanese Bill" (can not remember name). The camera work is decent, stylish film , music too well, the list goes on .
If you want to see – go for it. The film is not art house and not " festival program " – so it is quite watchable . It is possible that the " Lady " could twist in Grindhouse '70s, and it follows that the film automatically becomes a cult rarity . Fans of "Kill Bill" – must watch , but not like it all , because Tarantino is closer to the mainstream than this movie.
Screenshots:
Download: