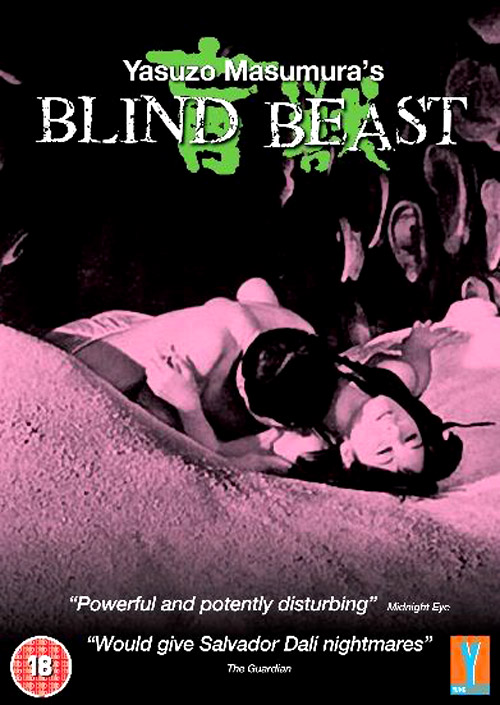 Year: 1969
Duration: 01:24:06
Directed by: Yasuzô Masumura
Actors: Eiji Funakoshi, Mako Midori, Noriko Sengoku
Language: Japanese | English Subs

Country: Japan
Also known as: Môjû, Cega Obsessão, La bête aveugle,Tyflo ktinos, Agouri sarka sta heria tyflou ktinous, A vak fenevad, Mohju, Slepa bestia, Die blinde Bestie
Description: Many years ago, seeing " Empire of Passion" Nagisa Oshima I was not surprised , the picture seemed mediocre , and its pathos unnecessary . Now, faced with a picture accidentally "Blind Beast" director Yasuji Masumura , I was very surprised .
In essence, Masumura predestined emergence of " Empire of passion ." I think that all topics discussed in the film Oshima , Masumura showed much more clearly and naturally. I would say more , Masumura Bezbashenny took real film that is considered one of the pioneers of " eroguro ." In this case , it's a real " manyachny " film, sends the viewer to the most abyss Thanatos .
The plot is simple – a beautiful girl kidnaps a blind sculptor. Man puts it in his shop and tries to charm . What can he offer her ? The answer is quite trivial . The hero is convinced that he can build a touch to an art form .
Further questions begin : if he can hold it and fall in love ? whether he would torture her ? and finally , will lead to their passion ?
I will not reveal all the cards , but BDSM- rush mutual love based on cruelty heroes will lead very far . However, even in such insanely cruel version , the picture looks much more interesting than the Oshima film series " Empire of Passion " and " Realm of the Senses ."
Moreover, the "Blind Beast" was filmed before the advent of such hits as " Last Tango in Paris " Bertolucci, " Tie Me Up " and the above Almodovar films Oshima . And I'm sure that the picture Yasuji Masumura significantly influenced these films .
In the film, Masumura has everything you need for a serious psychological drama: great acting, the extraordinary story, confined spaces , unpredictability . Unexpected jump in too brutal phase of course a change of heart about the film ( such as me , this move did not like ) . But, obviously, the director experimented .
The result: this movie is not weaker, and in my opinion even more interesting and better recognized by the Cannes festival masterpiece – Novels Nagisa Oshima " Realm of the Senses " and " Empire of Passion ". World of violence and art director shown significantly influenced not only the development of the genre " Eroguro ", but also on the general course of development of the history of cinema .
Review:
Screenshots:
Download: