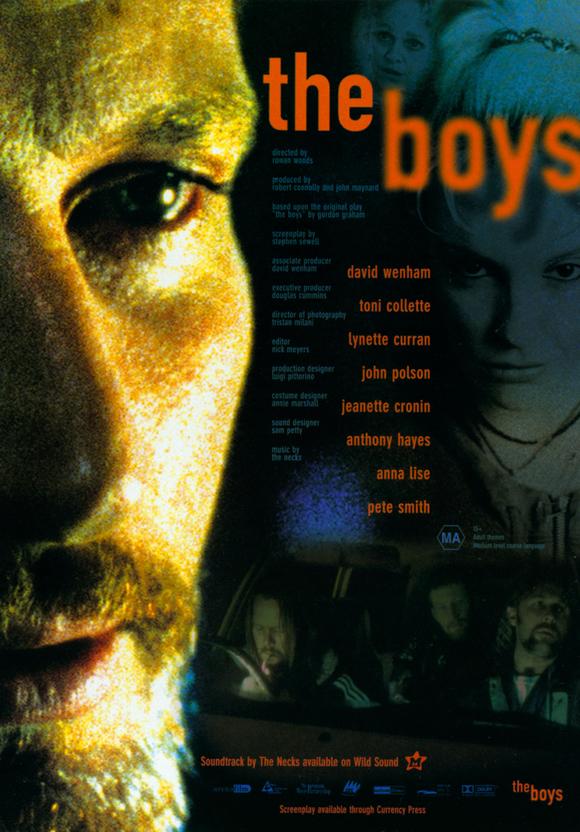 Year: 1998
Duration: 1:21:41
Directed by: Rowan Woods
Actors: David Wenham, Toni Collette, Lynette Curran
Language: English
Country: Australia
Also known as: Chlopcy
Description: A young man returns to his mother's home in the Sydney suburbs after release from jail, where his two brothers and his girlfriend are also waiting. Through intermittent flash-forwards in time we know however that the fates of these 'boys' will soon be irrevocably sealed in this multi-award winning film from 1998 by Rowan Woods, which is based on a play by Gordon Graham.
David Wenham gives possibly his finest performance as Brett Sprague. He's a dominant, truly scary figure who carries the constant threat of pent-up violence around with him like a mark in every word, every chilling vacant stare; even in the way he carries himself across a room.
Brett is the glue that holds this family together – his brothers all accede to and revolve around him, waiting for confirmation and acknowledgement – but just as clearly, he's the poison at its centre who will continue to tear it apart with his amorality and violent tendencies.
His brothers are clearly subservient to him. Glenn (John Polson) is the brother with the greatest opportunity of a positive change. He has a respectable girlfriend who obviously loves him even though she knows his family is beneath her, but with Brett back in the fold he becomes magnetized again by the pull of his brother's presence and can't find the strength to push him away and move on to a better life.
Youngest brother Stevie (Anthony Hayes) is a total lost cause – he got a local girl pregnant and she's now living with the family, but he treats her worse than a dog. Verbal abuse is his only means of communication other than acting like an idiotic teenager – the class clown.
Toni Collette is wonderful as Brett's girlfriend Michelle, giving a gutsy performance as one person who emerges from the film with her dignity still intact, willing to stand up and confront the brutal force of Brett, who suspects her of infidelity from virtually the moment he walks through the door. The final moment of confrontation between the two is emotionally-charged and uncomfortable to watch.
Lyn Curren as the boys' mother and the head of the Sprague clan is also terrific, a woman who has tried to keep her dysfunctional family on a straight path but failed. She has no real power over Brett, who she may berate and abuse but is clearly very afraid of, and with good reason. She's barely holding their lives as a family unit – a disintegrating façade – and her own sanity together.
There is violence implied throughout the film though very little is actually shown. This is a family which has clearly lived under the black stain of its twisted union, where the ties of blood are the only things keeping it from having been torn completely apart to this point. But this fateful day that we are witness to in the life of the Spragues will change things forever.
The Boys is a brilliant work and a genuine modern Australian classic, ruthless in its depiction of this low-class family in the suburbs. Woods' eye for every gritty detail is sharp and relentless, and though for the most part not much really happens, the portrait we're left with is a detailed one.
The film is like a slow-burn, but utterly compelling to watch, and all the more credit is due to Woods and the masterful cinematography of Tristan Milani, who captures and lingers upon mundane, everyday things of the house and turns them into portentous moments separating the hated words, the threats and the ugly realities in which this destructive family wallows. The edgy, understated music composed by The Necks underlines these scenes perfectly.
There's a raw, lingering power to almost every frame of The Boys. Though these people are repugnant and unlikeable, I found it hard to look away from them and their inevitable, tragic descent into becoming a fractured family.
Screenshots
Download