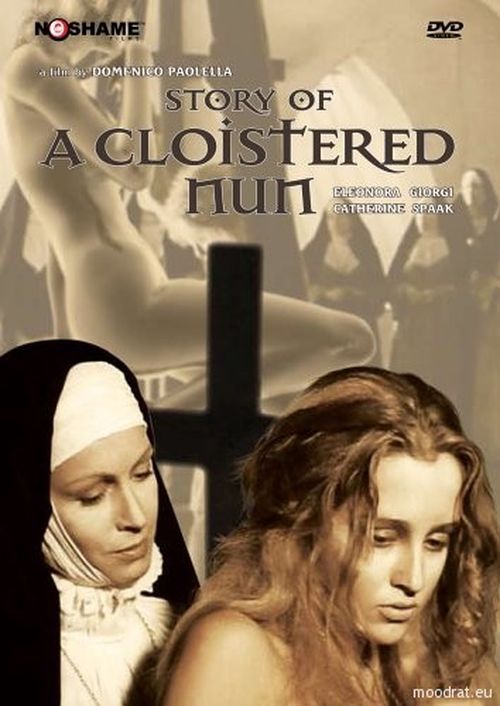 Year: 1973
Duration: 01:36:58
Directed by: Domenico Paolella
Actors: Catherine Spaak, Suzy Kendall, Eleonora Giorgi, Martine Brochard
Language: English
Country: Italy
Also known as: Unholy Convent, Storia di una monaca di clausura, Der Nonnenspiegel, Diary of a Cloistered Nun
Description: "Story of A Cloistered Nun" from Domenico Paolelly seemingly fits into the picture of the scanty films of nunsplotation: passions of a medieval monastery from tortures of the flesh, demonic possession, lesbian love joy and gloomy isolation. But in contrast to, for example, Bruno Mattei films ("The true story of a nun of Monza") or Sergio Greco ("Sinful Nuns of St. Valentine"), not to mention D'Amato, Franco or valerian Borovchike, his films at monastery-erotic subject were much softer and more cautious, recalling the screening of Stendhal and George Sand, than about the work Dorval to the forbidden fruit of young filmmakers 70. Still Signor Paolella was a man of a different generation and education. That turned him sentimental melodrama, one of which ("Nun and the Devil") can squeeze some portion of tears from the eyes of overly sensitive person, but no longer remembered, but the other deserves more than just a place in the list of tapes .
In it the director managed to go beyond the usual stories of unrequited love in the scenery of the Renaissance and that is not too loud and clear, but still start a conversation about honor, duty, conscience, responsibility before God and men. The price, which people can and should pay for his and others' happiness, and the sacrifice that has to bear, redeeming momentary weakness. Word that since the Ancient Greece is the essence and foundation of high tragedy, and that, as a rule, are afraid to offend the authors of genre cinema and literature. And let the "Story of A Cloistered Nun" these eternal questions almost to the finals are in the far background, but at the crucial moment, they still come to the forefront and display the picture on a wider and lighter gauge.
It all started with Signor Paolelly pretty ordinary. Carmela young, in love with as a young and poor Giuliano refuses to marry a man with whom betrothed since infancy. Enraged father, whose honor was outraged, sending her daughter to the monastery with the strictest possible regulations.
Review: A somewhat reluctant nun has her doubts confirmed when, no sooner has she entered the monastery than she's stripped and touched up by the sisters. Sadly, however, this is pretty much it as far any lesbian shenanigans go. And that's not the only disappointment – the beautiful Suzy Kendall, by now a giallo superstar, is billed as appearing but not only does she fail to get naked, she's hidden away in a habit for the entire film. The rest of the girls all look lovely, especially Eleonora Giorgi who is very convincing as the novice nun.
There's nothing here save for the copious nudity that warrants anything more than a PG certificate. The sumptuous photography and design are excellent – attributes thoroughly in keeping with the mainstream film this is. If viewed in this context, then it's a passable movie. Nunsploitation fans should look else for forbidden thrills.
Screenshots:
Download: