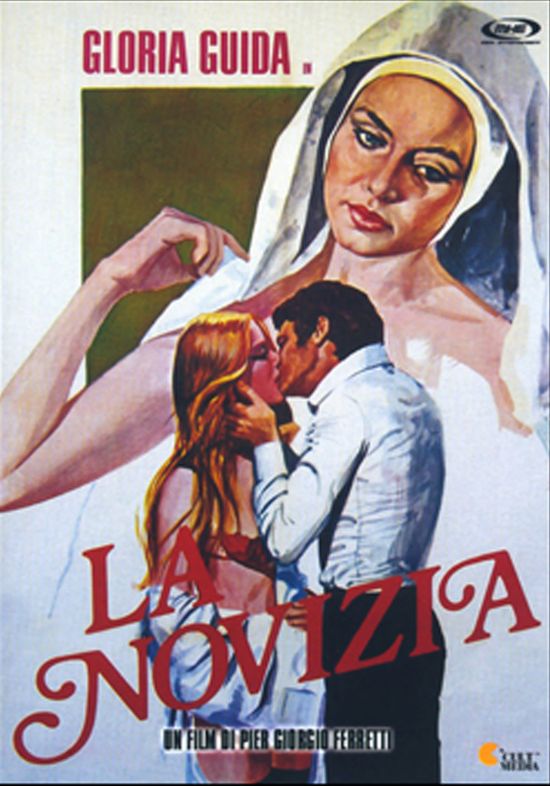 Year: 1975
Duration: 01:28:30
Directed by: Giuliano Biagetti
Actors: Gloria Guida, Gino Milli, Femi Benussi, Fiore Altoviti, Beppe Loparco
Language: Italian
Country: Italy
Also known as: A Noviça e o Amor, Enfermera de noche, La novice se dévoile, Verführung einer Nonne
Description of La novizia movie: A student, from the big city, return to  his born place to visit his very ill uncle. In his paternal house one novice nun (Gloria Guida) take care for the uncle. During his visit the student has many amorous encounters with other women, but his attention is retained by the young novice. A sympathy and affection starts between the two, but not all things happen as it must be expected. Fascinating story of love in this classic italian erotic movie, directed by Giuliano Biagetti (Decameroticus)
Review: Student hurriedly returned from his studies to visit and somehow support the ailing uncle. Uncle and really comes not in the best shape. Since he lives alone, then he was sent to help a young maid from the monastery. Student fascinated by the beauty of a young nun, and a nun in turn obsessed nephew. The whole movie together they were hit wedges, but somehow no avail. Only in the end they will understand each other completely and only then they decided to confess to each other in love.
Friends of the student as the student is not quite decent people. They're young, they just give plenty good evening and arrange a noisy party with prostitutes, which they do at first. The protagonist happy conducted in the evenings, but not as much as his friends. In his heart he romantic and goes in search of true love, the one found in the person of the young maidens. Gloria Guida (Being Twenty, Monika) first I was very surprised, because she got the role of a sad and stupid nuns. As it later turns out ill uncle will use it in the same order that the friends who came to the rescue of his nephew, that is, for the sake of sexual pleasures. Gloria – a nun, she was all so innocent, she can not obey the old man. Ailing old man get funny. He feels bad, but not discouraged, finds the strength to enjoy life. Wayward type, in general.
Film "La novizia" contrasts. Hilarious skits came much more, but still sad raid takes place. I would say, is a sense of melancholy at the end of the film. Young doves in love and soul in itself not chayut, but they have not given together (but of course, that do not care about love on morality). On it and is a little accent, but the emphasis was shown a sad kind of confrontation nuns and fun, as it seemed at first glance reckless guy-college boy.
Screenshots:
Download: