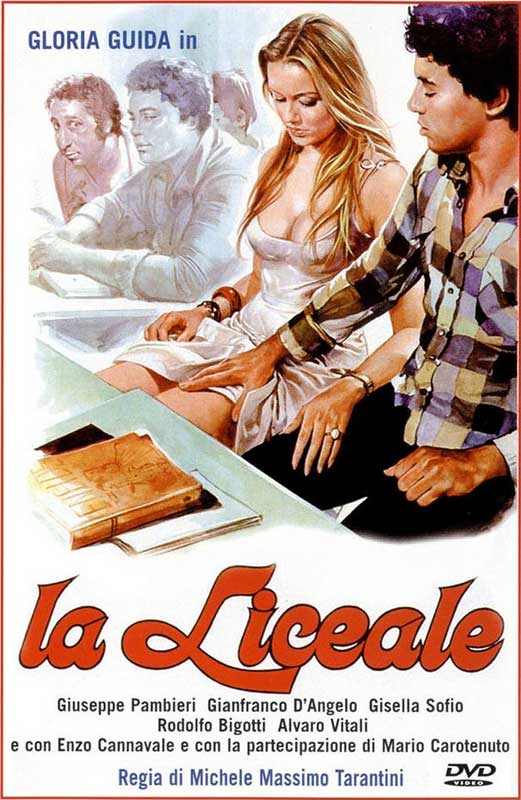 Year: 1975
Duration: 01:30:40
Directed by: Michele Massimo Tarantini
Actors: Gloria Guida, Giuseppe Pambieri, Gianfranco D'Angelo
Language: Italian
Country: Italy
Also known as: La liceale, The Teasers, À nous les lycéennes, La colegiala, Under-graduate Girls

Description: An emblematic italian sexy comedy La liceale. Dull by all standards, but at least it has two things for it:
1. Gloria Guida (Being Twenty and La novizia) is here, and shows a lot right from the credits.
2. She doesn't sing like she would do in later flicks of the kind.
Also, Ilona Staller has a part in this movie too. Which I find fun in itself. Picture is good. That's fun, "live" I had found it a little nicer than what the screenshots below show (don't know why, maybe it seemed a bit sharper, perhaps less grainy in the backgrounds too), although that of course doesn't make sense! Anyway I've comed across an old italian DVD and a cheap french version (bootleg?) and, take my word for it, picture here is far better indeed. Audio is OK.
Loredana – doll-school girl that everyone wants, but she plays them like a cat with mice. But a chance encounter with an adult gallant little old-fashioned man makes Loredanu change. It holds in his company a few wonderful days, gives him her virginity, and making plans to go away with him from the boring town. But can you really trust the travelling man, even if he swears in eternal love?
Review: Bunch Loredana (Gloria Guido) is dissolved. Daughter eager to lose her virginity, mother openly flirts with her lover (although he tries to hide it, but his daughter about it for a long time knows), and Dad always on vacation and he does not care about the growing problems in the family. Suitors have Loreandy full, but how to make the right choice?
La liceale is the first films of Michel Massimo Tarantini. Individuals are the same. Alvaro Vitali has got a surprisingly large secondary (his name in the credits is one of the first, even), but an unusual role. It seems that here, he's still the same simpleton, who not very lucky with the opposite sex. Sometimes it only remains that licking their lips, but pose silly faces, and of the class laugh. So in addition to all this, he is respected in the beginning of the film, even objected to the teacher, as well as commanding the whole class. So, here it is not the last student to whom no one even pays any attention, except for the operator.
Gianfranco D'Angelo got the role of a substitute teacher prior to illness. He teaches history. He likes the good manners, and generally too "right." This once again gives his eerie grin reaction over how Loreanda not miss the opportunity to shine panties and put in the paint even the most licentious teacher. But he is not so simple. Once it encroach gang of motorcyclists (pupils of class, where he teaches in order to avenge his poor grades, probably), so the teacher asked them to heat and scattered young bikers only way. It looks funny and cool.
Mostly played by John the Staller, known the world over as she goes. Yes, the same. In a "normal" movie role she is also quite specific: a naked breast roll succeeds, but the show itself as an actress does not have time. In the Russian wiki has a note on this occasion: "Despite the fact that, since 1970, she made several appearances in movies, her first full-length film debut under his own name can be considered as published in the 1975 film« La liceale », where she played Monica , a classmate, a lesbian main character. "
Screenshots:
Download: