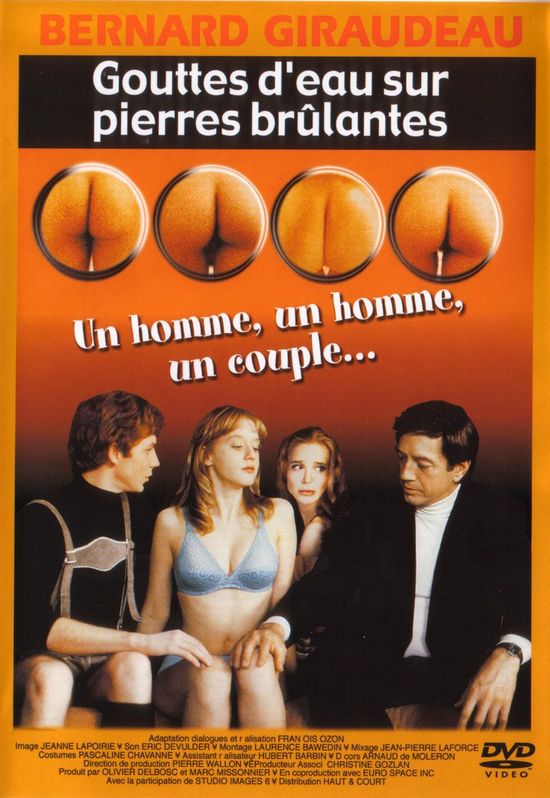 Year: 2000
Duration: 01:21:47
Directed by: François Ozon
Actors:  Bernard Giraudeau, Malik Zidi and Ludivine Sagnier 
Language: French (Eng Subs)
Country: France
Also known as: Gotas que caen sobre rocas calientes, Gouttes d'eau sur pierres brûlantes, Dråber på hede sten, Gocce d'acqua su pietre roventi, Tropfen auf heiße Steine, Krople wody na rozpalonych kamieniach
Description of Water Drops movie: Germany of 70-s years. Naive young Franz enters the Leopold's apartment, much older than him a successful businessman. Role-playing, manipulation leads the couple to a standstill, suddenly it turns out that two people are too different. The situation takes a new turn when the alliance of the two men was split by girlfriends.
Review: Francois Ozon film "Water Drops on Burning Rocks" is based on Fassbinder's play was marked by the Berlin Film Festival Special Prize for the best film in the framework of the show, to address the problem of sexual minorities. Perhaps this is the first thing that should be noted before you start watching, because of homophobia and all those who have any problems with this, I would not recommend this film – naturalistic scenes depicting male homosexuality, as well as the associated sex and erotic fantasies abound. But the idea of ​​the film in general is not a problem with gay people, and love, as such, or rather its absence. When one person is sincerely attached to another, but the other – calculating, hard-hearted, selfish irritable, appreciating only the moments of sexual excitement, constantly looking for new partners and methods for their comfort. In the final, it's a tragedy, drowning in a sea of ​​indifference – the guy is dying, but that he loved not to this particular case.
Beautiful, but difficult to follow the movie. Directing, acting, cinematography, dialogues deserve the highest ratings. Perhaps one of the best works of Ozone.
Screenshots:
Download:
Water Drops on Burning Rocks 2000