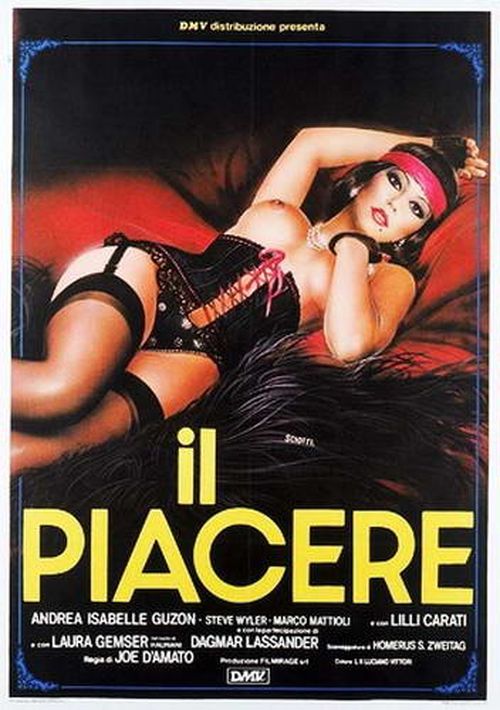 Year: 1985
Duration: 01:26:55
Directed by:  Joe D'Amato
Actors: Andrea Guzon, Gabriele Tinti and Marco Mattioli
Language: English | Italian
Country: Italy
Also known as: La femme pervertie, De perverse vrouw, Die Lust, El despertar del placer, I apolafsi, Käsi hameen alla, Il piacere
Description of The Pleasure movie: Losing died under mysterious circumstances favorite Eleanor Gerard inconsolable and endlessly listening recording of her voice with declarations of love. On the anniversary of the death of his mother to Gerard later her daughter Ursula, which turned a replica of Eleanor. It soon became clear that she was in love with Gerard wants to take a place in his heart and the mother wants to Gerard became her first lover.
Review of Il Piacere film: In the quadrilogy Joe D'Amato devoted to the eroticism of fascist Italy in the early 1930s, "The Pleasure" is easily the most melancholic, complex and devious picture.
Joe D'Amato is a very famous director of many erotic movies, like an incest drama Lustful Mind and Porno Holocaust
The story (devised by Claudio Fragasso and "Zweitag", probably a pseudonym of D'Amato himself) might very well be inspired by Edgar Allan Poe's "Eleonore", which equally features a female whose love is so strong that it transcends death. This is the more plausible since D'Amato's earlier "Death smiles at the murderer" was inspired by Poe's "The Black Cat", among other models.
Screenshots:
Download: