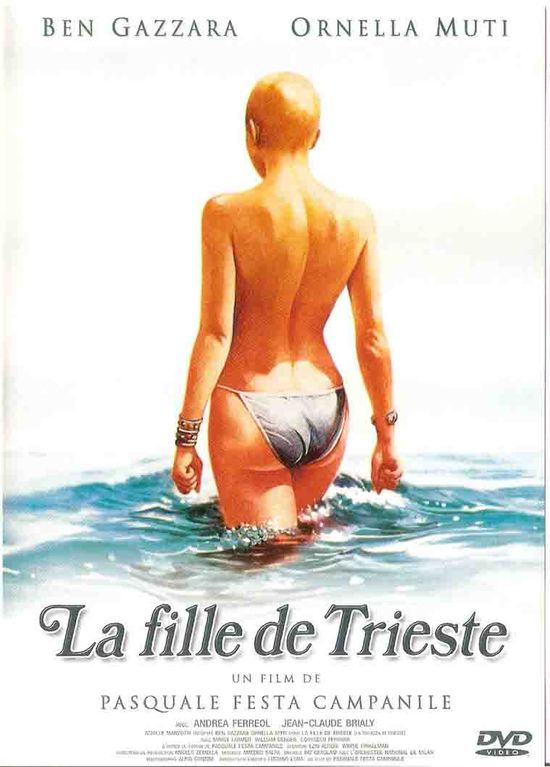 Year: 1982
Duration: 01:40:47
Directed by: Pasquale Festa Campanile
Actors: Ben Gazzara, Ornella Muti, Mimsy Farmer 
Language: Italian (English subs)
Country: Italy
Also known as: La ragazza di Trieste, A Garota de Trieste, A Rapariga de Trieste, Das Mädchen von Triest, La fille de Trieste, To koritsi apo tin Tergesti
Description: A middle-aged artist loans a blanket to a young girl. Later she returns the blanket and they shag a few times. He wonders who she is and where she goes. As usualy, things become more complicated as he begins to fall in love with her. His regular girlfriend returns but it's not the same. Yet, he eventually begins to realize his mysterious new lover may be very much insane.
Muti, his new lover, is simply beautiful. When she sit it in an outdoor café in a micro-skirt with her legs wide open, we would expect an earthquake, or at least a riot, a traffic pile-up, or a line of guys waiting to administer first aid. Still, Muti turns in a truly superb performance. We get to see her lovely muti, as well as her lovely pair of mangoes.
Gazarra the artist and Muti were also teamed, even more implausibly, in Marco Ferreti's biopic of poet Charles Bukowski "Tales of Ordinary Madness". Plausible or not, if she shows her muti, who would want to miss that?
A must-see for any Italian movie fans, teaming up one of Italy's most incredible – and incredibly beautiful – actresses, and one of Italy's most talented – if underrated – directors who died just four years after finishing this movie.
Definitely recommended.
Review: The film "Girl from Trieste" can serve as a classic example to answer the question: What is the true direction? It would seem, the tape 55 year old Italian director Pasquale Festa Campanile, created in his novel, almost everything just to the obscene, the same as the picture of the "History of Ordinary Madness" Marco Ferreri (the same funny is that it was after the "Girls of the Trieste "producer Achille Mandzotti decided to cooperate with Ferreri, making him two notable works:" The history of Pierrot "and" The Future – is a woman "). Re lonely, suffering, unsatisfied creator, this time – animator Dino Romani, Italian-American, accidentally meets a beautiful girl at the sea (now her name – Nicole, and she was ill with schizophrenia). It covers an irrepressible love obsession, changes lives.
And play the same actors – Ben Gazzara (Ladykiller) and Ornella Muti (Summer Affair). The film was shot in English, though the action is not in Los Angeles, and in Trieste. Directing is so helpless and unconvincing, even artists, flashed Marco Ferreri, look incredibly unnatural and silly to sentimental, tearful, almost Indian melodrama Festa Campanile. Stóit there anyway to watch it just because of the beautiful sludge, which also decided on a kind of sacrifice on the part of a female actress, appearing in the finals shaved?
Screenshots:
Download: