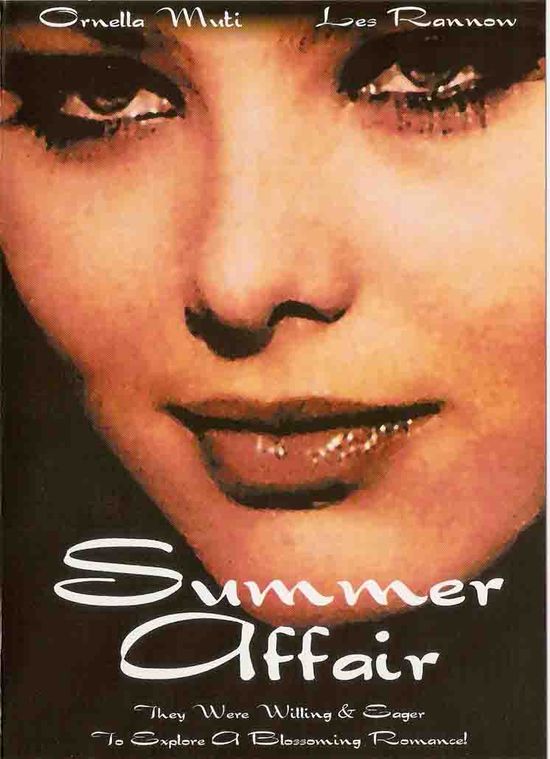 Year: 1971
Duration: 01:23:35
Directed by: Giorgio Stegani
Actors: Alessio Orano, Ornella Muti, Luigi Pistilli
Language: English
Country: Italy

Also known as: Il sole nella pelle; ¿Violación bajo el sol?; Amour jeune, amour fou; Anilikoi erastes; Ein Sommer voller Zärtlichkeit; L'amour dans la peau; Le soleil dans la peau; Sun on the Skin; Zu Tode gehetzt
Description of Summer Affair movie: A daughter of the industrialist magnat fell in affair with one free hippie hobo. This irritates her parents. But the young people escape to a deserted island, where their feelings blossom like wildflowers …
Review of Summer Affair movie: Story. Nimph girl on a nudist beach meets his first, as it seems, love. His name was Robert: he's a guy with a guitar (like tumbleweed), and she starlet sixteen, daughter of the rich dad.
Summary. The Seventies, is just beginning sex revolution. While in Italy, nudist beaches are banned, and the latter-day Adamites already secretly, you know, make their golyatskie party outdoors. The main character, Lisa, went along with the class in a cultural campaign to nature. And should be there to happen – ran on naked aunts and men (no, well, there is not any older, and they are then passed through 20). And as she saw her naked eagle, but with a guitar in his hands between his legs, and the girl was gone. "This Love," Lisa thought to herself, and went to meet with parnishechkoy.
But father at Liza is a strict man, and above all in a half-evaluates human eye. Dad girly steep – car business deals. He immediately identified Robbie as hipparey because – "it to you, docha, not a couple. You're from different worlds. Forget him. I forbid you to see him. " As a normal girl should do in this situation? Right! Salute and bellow: "Yes, sir!" But our heroine doing? Yes, just send Svava priest, where Makar is the calves did not go.
Yeah, history. And then the kids decide, as in the best tradition of adventure novels, run and run. Kuzia? At the end of the world. Took the boat (note papkinu) and floated. Yes, of Roby lousy sailor – the boat sank. And they were on the island. Desert. Though there was nothing to devour, and they were good, you can go swimming naked.
You look at these, in fact, even the kids, and you think: "Eeh, young, green. What buntuete still not at your will. " The only concrete companion in the story – the father-avtodelets because right about everything. Normal guy, without claims. Robert, of course, the future of Che Guevara, a rebel, a loner. He has three ideals in life: the guitar, and to stir up the road. Therefore the folder was right, well, he is no match for her. She has stove and the other will not, and this is just a temporary indulgence, a new thrill.
In general, a hilarious movie, a lot of beautiful music, the overall positive background, as if the director laughs at this story, not a drop of anything not believing. But you want sometimes, because you want at least some romance.
Screenshots:
Download: