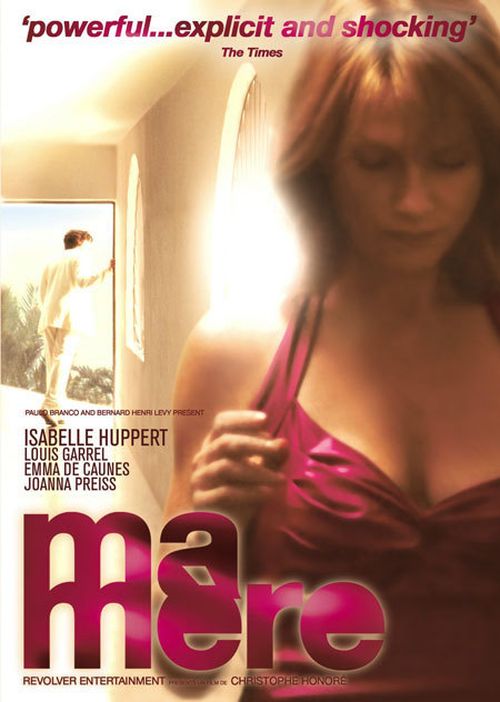 Year: 2004
Duration: 01:47:50
Directed by: Christophe Honoré
Actors: Isabelle Huppert, Louis Garrel and Emma de Caunes
Language: French (English subs)
Country: France | Portugal | Austria | Spain
Also known as: Ma mère, Meine Mutter, Моя мать, Mi madre, Minha Mãe, 
Description: 17 year-old pale young man, pale, with a mane of black hair and decadently elongated nose, is drinking and participates in debauchery with his widowed mother.
Review: "My mother" – another movie that tells about the perverse relationship. This time the matter goes to incest between mother (Isabelle Huppert – Piano Teacher) and son (Louis Garrel who played in The Dreamers), but before the event will result in the viewer rather nasty things (the degree of filth which, however, I can not judge.)
Speculate on whether the normal relationship in the film, however. But judging by the recent works of Christophe Honore, French youth for all is in order. "I think that the defect did not exist", – said one of the bridesmaids hero. "Scary is not what we do, after this terrible life" – says his mother and kill himself. Apparently, incest – is too much even for a woman at the request of and in front of which her friend dash mistress seduces her son.
Having started to watch a movie just because Garrel, I'm more wondering why he always gets such roles. "Just as beautiful as it is flawed" – that is, apparently, the only conclusion that comes to mind when looking at the director to his appearance. In the most beautiful pictures "My mother," close-up camera pulls his face, which is so aesthetically perfect that it can be watched for hours, and freezes.

Screenshots:
Download: