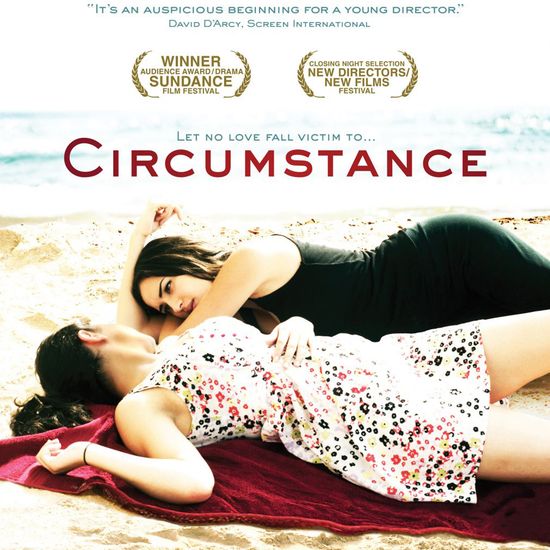 Year: 2011

Duration: 01:46:12
Directed by: Maryam Keshavarz
Actors: Sarah Kazemy, Nikohl Boosheri and Reza Sixo Safai
Language: Persian | English (some dialogue) | French (some dialogue) | English Subtitles

Country: France | USA | Iran

Also known as: En secret, Circumstances, Förbjuden kärlek, Forbudt kærlighed, Sharayet – Eine Liebe in Teheran
Description: Everyone wants to love. It is this idea came after seeing this movie. Only love can not live where the oppressed woman. After all, love is the soul, creativity, femininity, it is freedom and the absence of conventions. Only in this way love can lead to harmony and happiness.
In the movie "Circumstance" two young Iranian girl Atafu and Sharin feel what it means to love and desire. Their love seems to be looking for a space for themselves throughout the film. Love as though it were water, pushing, pushing, and flowing through the bulk circumstance Iran sought to discover ways in the narrow, pinching its vessels in the form of a moral police, suddenly became a religious fanatic brother, is in control of every step of hypocrisy and lies, traditional values ​​and rules. How to save your sense, if everything around has the right to intervene?
Very memorable scene where Mehran (brother of Atafu) lies on the bed with his wife has become Sharin and crying. Cries from the fact that he, too, wants to love, pure, sincere and genuine, but realizes that this will never happen. After hiding behind God and morality far-fetched, Mehran still chose for himself methods of suppression, oppression and illusion: the exercise love, enjoying and being dissolved, allowing, letting go, it's better accommodate its existence in the limited scope and pretend happy, planning to break up a beautiful garden just purchased the land while keeping an eye on the camera for his wife, and feeling like the master of the lives of others. The brightest in my opinion selfish. Then what is the meaning of conversion to God … or it was not an appeal to God, and the only ritual that supports created entourage.
Screenshots:
Download:
Circumstance 2010 Part 1 English Subtitles