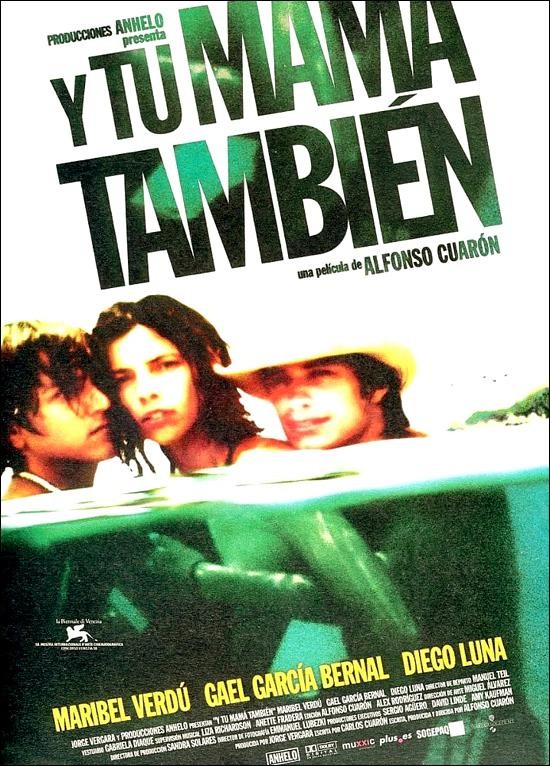 Year: 2001

Duration: 01:45:13
Directed by: Alfonso Cuarón
Actors: Maribel Verdú, Gael García Bernal and Ana López Mercado
Language: Spanish (English subs)

Country: Mexico

Also known as: Y Tu Mamá También, Tengoku no kuchi, owari no rakuen, Et… ta mère aussi, mit deiner Mutter auch!
Description: One of my favorite movies. The film is not shocked, but be impressed. This is not a film about love, not even friendship is a film about life.
Caron shot a movie which is sometimes called the female version of «knocking on heaven's door». This is also a film about knowing about the approaching end people trying to squeeze from the lifetime maximum.
«And your mother, too film in the manner of a road movie, which pleases with its originality and makes you feel part of the plot. The film ends as you would. Friendship of Tenoch and Julio was doomed but this trip was undoubtedly the main lesson in their life.
Review: Carefree youth, sex, drugs, girls, beer … and then it ended and the beginning of adulthood. Remarkable phrase: "The more they never met." The boys grew up, they now have different interests, completely different lives and outlooks.
The ending is very pleased. The whole movie was wondering: what is this movie? Look for some notes, clues. In actual fact it is very easy and banal.
I can not say that the hit that enthusiastic about the film, but that does not pass without a trace – definitely.
Mexico … dusty hot air, cheap motels, deserted beaches, watery beer, childish innocence, unbridled desire, irresistible rock destiny, truly living heroes … The film captivates his frankness, honesty, genuine beauty and passion.
Each action has a hidden meaning. This movie goes to show that their lives and their time should appreciate and enjoy every moment.
Screenshots:
Download: