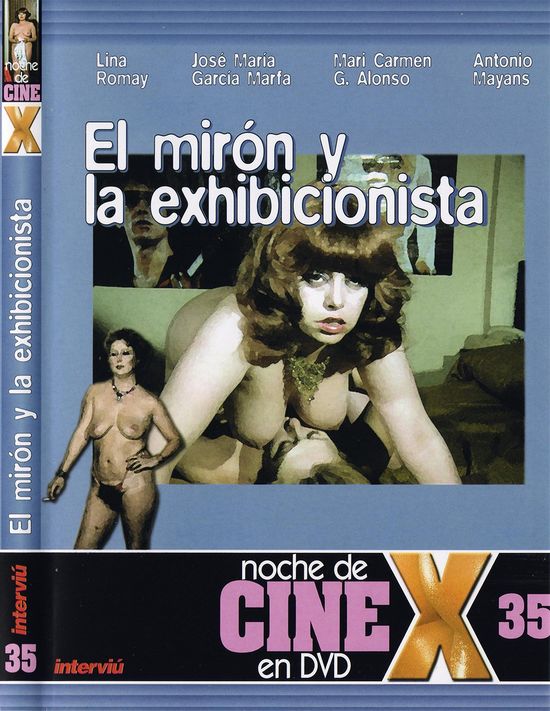 Year: 1986
Duration: 00:54:31
Directed by: Jesús Franco, Lina Romay
Actors: Lina Romay, José Miguel García, Mari Carmen G. Alonso
Language: Spanish
Country: Spain
Also known as: 
Description: The film "El mirón y la exhibicionista" is totally starring for Lina Romay great, great in his entire body of Lulu Laverne (lina with a wig, with a voyeur José Miguel García, a lesbian scene with Mari Carmen G. Alonso (Rosy Oussy) and Antonio Mayans .
The plot takes place easily without dialogues and three scenes that satisfy the Miron: Lulu masturbates alone, Lulu (Lina Romay – Lulu's Talking Ass and Sinfonia Erotica) becomes involved with a woman and Lulu becomes involved with a man … the three stages of the discovery of kinky sex with a woman, or marriage 'MiroXibicionista', in which fate would meet a voyeur and an exhibitionist, and of course, when they realize where they derive their pleasures are pleased to implement his sexual fantasies: he with his binoculars while she  was raw .
Review: A man, obsessed with sex, is dedicated to spying on women as they make love. 'The Voyeur and the Exhibitionist' forms part of the 10 films made by Jesus Franco at the dawn of the Spanish X cinema with very few resources, lots of imagination and a roster of enthusiastic actors and technicians who became pioneers of the genre in our country."
Interesting confession since the film, according to Carlos Aguilar's book, was made at a time when Franco's career was at such low ebb it was impossible for him to finance a film with his own name attached. This led to him working without credit and Lina Romay hiding behind this and other aliases on minimal projects like this. Before this, Franco has always denied creative association with these films, giving full credit to Lina. On the packaging, the direction is explicitly credited to Jesús Franco and the production credited to Fernando Vidal (onscreen: Fervi Films).
"El mirón y la exhibicionista" a very simple story: At a hotel resort (apparently the sort of place that tapes Lou Reed and Mick Jagger posters to the walls in lieu of decor), a man and woman with complementary windows arouse each other to orgasm. The woman first diddles herself, then involves another woman and then another man in her activities.
Screenshots:
Download:
El mirón y la exhibicionista (1986)