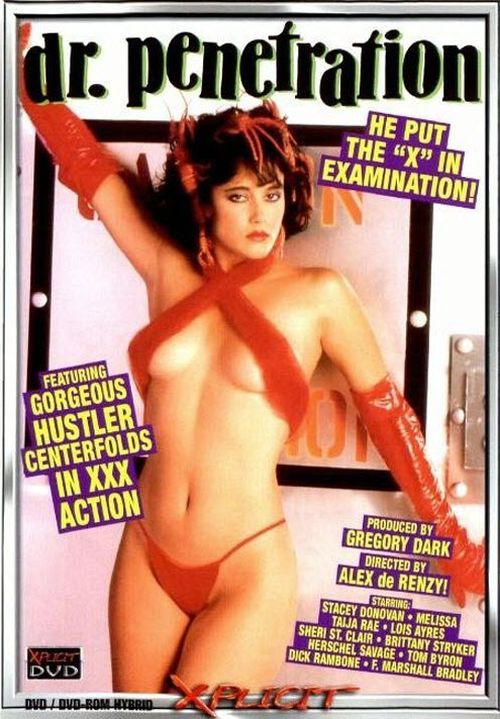 Year: 1986
Duration: 01:11:52
Directed by: Alex de Renzy
Actors: Stacey Donovan, Melissa Melendez, Taija Rae
Language: English
Country: USA
Also known as: Dr. Penetración (Venezuela)
Description: Sweet Stacey Donovan and Herschel Savage are a couple of newlyweds who find themselves in some trouble as their car breaks down on the way to the honeymoon.
They seek help, not knowing that the house they knock on belongs to Dr. Penetration.
Inside he keep a private refuge for all sorts of sexual debauchery so he can fulfill his need for voyeurism as the sex-crazed madman that he is.
Inside, the couple will have a honeymoon that they will never forget, along with the Lobster Woman (Melissa Melendez) that runs the house and a servant girl named Igor (Sheri St. Clair who played in Desperate Women).
An halucinated and hilarious experience of torrid sex that became an instante classic of it's genre was directed by Alex de Renzy (Femmes De Sade and Babyface)
Review: Hold on to your hats! A newly married couple break down in the sticks and head to a house in the middle of nowhere. They're greeted by Igor, lustily played by the vivacious Sheri. St Clair. After the couple fucks, Igor informs them the Doctor would like to see them, but not after Igor kidnaps the groom for some tower of power in a tower. Anyhoo, this is a cross between Rocky Horror Picture Show and early John Waters material. The mad Doctor Penetration wants to turn his captured fuckers and fuckees into fuck zombies through the power of harnessing their sexual fantasies. Plus – Lobsterman fucking. Directed by the fine purveyor of skin flicks, Alex DeRenzy and produced by the incomparable Gregory Dark (New Wave Hookers, Devil in Miss Jones 3&4). Good amount of goofy story with awesome set design, and the porn itself isn't half bad!
Screenshots:
Download: