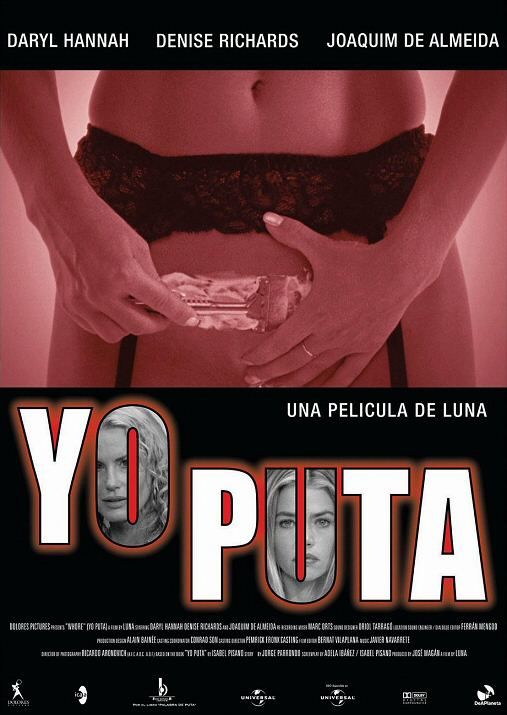 Year: 2004
Duration: 01:27:46
Directed by: María Lidón
Actors: Daryl Hannah, Denise Richards, Joaquim de Almeida
Language: English | Spanish | English Subs
Country: Spain
Also known as: Yo Puta, I Whore, The Life, The Life: What's Your Pleasure?
Description:
Yo Puta, also  known as Whore,  which is in English, Spanish and French (with  subtitles available below for the Spanish and French parts), intertwines fiction and interviews with real prostitutes and their clients.  In it, a virgin graduate student, Rebecca, (Denise Richards), is writing a book about prostitution while she is studying at a  university in Los Angeles. Frustrated by the slow speed at which her book is progressing and badly in need of money, she  turns to her neighbor, Adrianna ( Darryl Hannah), a struggling actress who has become a prostitute, who teaches her how to become a prostitute herself. At the same time in Spain, a writer is interviewing prostitutes (both male and female) and porn stars in order to write her first major book.
Review: I do not understand how you can objectively see this picture. Whore – it's not a film about prostitution, or what the individual "interesting" the nuances of this profession. It is not necessary to wait quite explicit erotic scenes, and so on and so forth
Yo Puta – a film that tells us stories about really unfortunate women, which according to his will, or by force got into this ancient and brutal business, ihnimi not only in words but also through the mouth of some pimps.
And even as they did not try to hide their feelings behind sarcasm and smiles, pain and bitterness in their eyes says a lot …
The usual stories that happen every single day. And this is just awful. On this and the journalist was trying to tell us their investigation.
And despite the very large differences between them. And the "elite" expensive prostitutes, and the usual "backyard," and even those girls who do this from the usual situation of hopelessness in life. In that and got the main character Denise Richards, and svykshayasya already to his position a woman played by Daryl Hannah (she also played in Summer Lovers and Eldorado).
Mahatma Gandhi when he would say:
"A man and his actions – two different things. While a good deed deserves approval, and a bad-conviction, a person, whether good or evil act he has committed, or is always worthy of respect or compassion. "
So all these women do not make me a sense of disgust and hypocrisy, but only pity and compassion. Really sincere compassion. And understanding that none of us is immune from such.
Review #2: The film Yo Puta is made by a documentary book, so it looks like a journalistic essay with elements of the film. Most real prostitutes and sex workers talk about their lives without unnecessary emotions and complaints of heavy share.
An impartial presentation of the material is trading his own body as a normal working life with its pluses and minuses. Each of the participants chose this way of life, so we do not feel pity for the heroes of the story, but just listen to them.
No shocking revelations and fresh perspectives – the usual routine of production, and about which so little interested in all this vital area, have a fairly clear idea.
An endless stream of interviews concluded in a kind of artistic framing in the form of visual discoveries, unusual camera angles and elements of eroticism, but it only needs to maintain interest in the boring chatter.
The second component of the tape – languid art history, very shallow and unremarkable, which is a kind of illustration of the documentary part of the film.
Not the latest Hollywood actress Daryl Hannah and Denise Richards playing girlfriends, neighbors, trapped in the panel needed here only to advertise optional to viewing the film, and to be honest, it's surprising that they are generally attracted to the project.
By the way, who hopes to see Hannah Richards or bare, given the theme of tape will be deeply disappointed. Actress in "slut" is not distinguished either for dramatic flair, or other advantages.
Both components of the tape, alternating between them, are perceived aloof, not wanting to blend into the overall composition. So in fact we consider two different films with a common theme, but are not necessary attributes to each other.
Based on the foregoing, see "Yo Puta" is only for those who has no idea what is prostitution, or an avid erotomania, ready to contemplate anything that contains nude female body.
Screenshots:
Download: