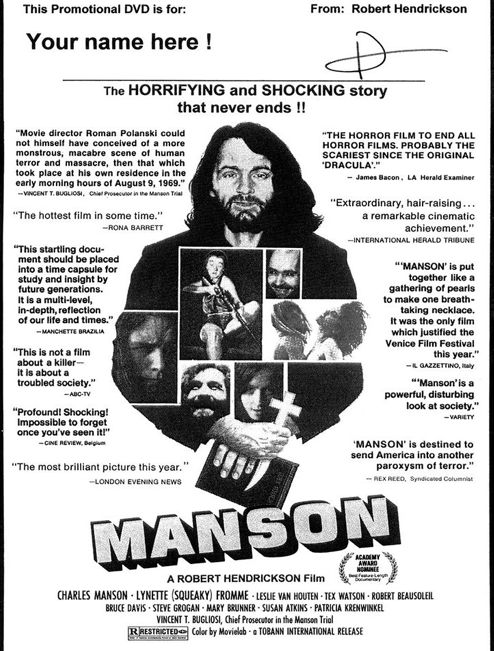 Year: 1973
Duration: 01:23:27
Directed by: Robert Hendrickson, Laurence Merrick
Actors: Mary Brunner, Vincent Bugliosi, Bruce Davis
Language: English
Country: USA
Also known as: Manson and Squeaky Fromme (reissue title)
Description: Oscar nominated documentary about Charles Manson and the members of his family.
Contains a lot of family footage and interviews with the most notable elements among them.
In case anyone doesn't know, this is the definitive visual account of the Manson family and their crimes. Includes interspersing images of Manson, Susan Atkins, Krenwinkel and Van Houten in court with interviews with prosecutor Vincent Bugliosi and interviews with Family Members at Spahhn Ranch.
The stars of the film are Lyn Fromme and Sandy Good who are wonderfully creepy and maniacal in their devotion to Manson. These girls who could have lived next door to you growing up are now handling guns and knifes and talking casually of murder. Hollywood couldn't write anything this perfect
This documentary works as a straight up horror movie due to the wonderfully grainy and unsteady camera work and psychedelic visuals which give it a similar feel to alot of the horror movies of the era.
Screenshots
Download