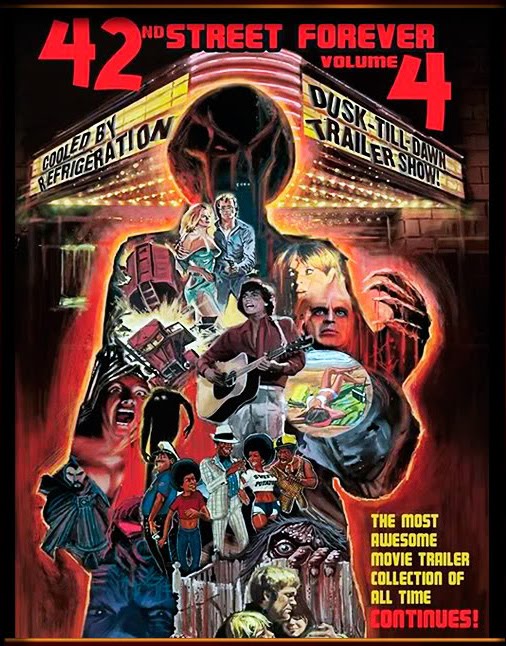 Year: 2005
Duration: 02:07:22
Directed by: N/A
Actors: N/A
Language: English | French
Country: USA
Also known as:
Description: Collection consisting of only movie trailers (Grindhouse, horror, kung fu, explotation and so on).
Review: Completely by chance, I came across four movies. Or rather it is not full-length movies, and trailers from Grindhouse thread. These trailers in Grindhouse spinning from the sixties. But unlike Tarantino trailers with Rodriguez on them were shot real film. This is mainly trash and exploitation. So, the first part is called …
42nd Street Forever (I love these trailers)
The first part is more than two hours. We show a lot of trailers. Write about everything I do not see the point, because it is very long. I just list the names of those trailers that I really liked. When you look at them, maybe you will agree with me. In any case I would like to see these trailers in the form of feature films in full. So …
The Undertaker and His Pals (1966)
The Flesh and Blood Show (1972)
I Dismember Mama (1974)
Corruption (1968)
Necrophagus (1971)
Ginger (1971)
The Party at Kitty and Stud `s (1970). In this film, an ancient game Sylvester Stallone.
Cornetti alla crema (1981). Very funny comedy probably. Noticed in the trailer wife Fantozzi.
Hard Candy (1976)
Panorama Blue (1974)
Wicked, Wicked (1973)
Teenage Mother (1967)
Mi primer pecado (1977). Probably a very powerful film.
Matango (1963)
The Green Slime (1968). Well, very funny trailer.
Kaijû sôshingeki (1968)
Tian can di que (1979). That's a real shocker. Cripples, are engaged in martial arts. Very scared me this trailer.
Werewolves on Wheels (1971). Werewolves on motorcycles. So long ago, I was not happy.
Pink Angels (1971). Bikers in women's clothing. Here without comment.
Exponerad (1971). Like this trailer only because of the main actress. Well, a very beautiful girl. Christina Lindberg real star Grindhouse. No Quentin, you will not get this actress. It's mine.
Thriller – en grym film (1974). Again Christina Lindberg. Again, I see in the eyes of the movie Kill Bill.
Maid in Sweden (1971). Christina again. And I realize that I love this actress.
Interno di un convento (1978). Well, it's Valerian Borovchik. Real Genius.
Boss Nigger (1975). This trailer is a legend Fred Williamson. Remember him in the movie From Dusk Till Dawn?
Clegg (1969)
I predatori di Atlantide (1983). Powerful fighter from Deodato.
Starcrash (1978). Added only because of the main actress Caroline Munro.
Confessions from a Holiday Camp (1977). A hilarious trailer.
Poliziotto superpiù (1980). Corbucci surprising.
The Deadly Spawn (1983). Funny trailer of monster.
And finally, the latest trailer, which I liked – La plus longue nuit du diable (1971)
Here are the trailers I liked the first part of 42nd Street Forever. Of course, I did not write anything, but only those that you liked. By the way there were even movie trailers, which won prizes at the Cannes Film Festival. Really funny. In any case, it now remains only to find these full-length movies. I would not want to forget these films. Each of his films. I have it, such as in this list.

Screenshots:
Download: