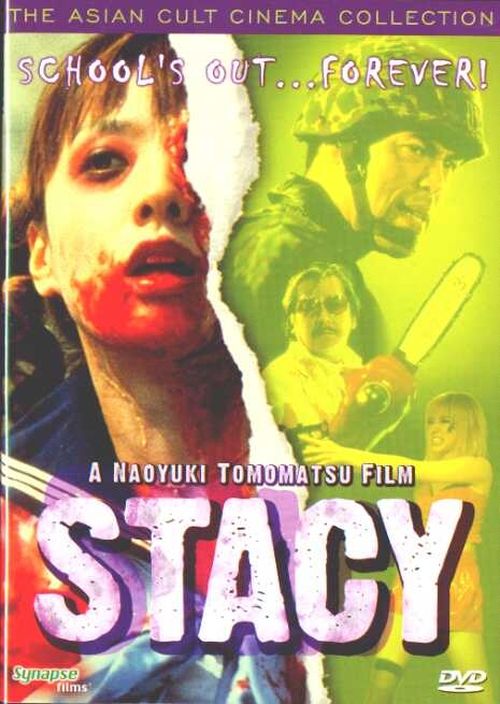 Year: 2001
Duration: 1:20:17
Directed by: Naoyuki Tomomatsu
Actors: Norman England, Tomoka Hayashi, Yukijirô Hotaru 
Language: Japanese (English hardsubbed)

Country: Japan
Also known as: Stacy: Attack of the Schoolgirl Zombies; Stacy – Angriff der Zombie-Schulmädchen
Description: In the early 21st century, young Schoolgirls around begin to die and return to life flesh-eating zombies, which are suspended in the media are beginning to call "Stacy". The only way to stop this, "Stacey" — divide it into hundreds of pieces, and is engaged specially formed team, "Romero".
I figure that's all you need to hear to know if you'll love this flick or not. Probably 25% of you get a hard-on just hearing those three words together. But if you really must know the plot: Well, Japanese schoolgirls turn into zombies. Hilarity and gore ensue. And there's girls in bunny hats with chainsaws.
This film mixed a lot of styles, so that everyone can find something for themselves. Bloody scene with the cutting off and tearing the limbs will please fans of thrash metal. Dreamers and thinkers will draw a lot of beautiful topics for discussion and reflection.
Screenshots
Download