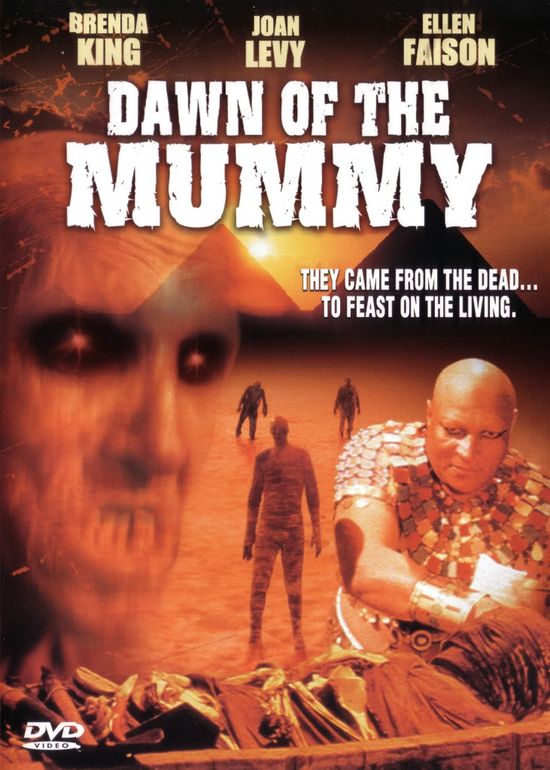 Year: 1981
Duration: 01:28:14
Directed by: Frank Agrama
Actors: Brenda Siemer Scheider, Barry Sattels, George Peck
Language: English
Country: USA | Egypt | Italy

Also known as: Die Mumie des Pharao, El despertar de la momia, I moumia vgike apo ton tafo tis, L'aube des zombies, Rache der Mumie
Description: The group of super models decided to make a photo session in the ancient tomb of the Egyptian priests. Their presence unwittingly awakened gloomy dark forces and revive long-dead mages. Horror, blood, suffering and mummies let out young beauties …
Review: Being fairly good movie of its kind, Dawn of the Mummy really scare. Paintings, which takes place in Egypt, and in the center of the plot featured a mummy, not a lot, the more good pictures. Of course, such blockbusters as The Mummy, Stephen Sommers or Belphegor ghost Louvre, are interesting and dynamic. However, the image of the mummy in the first place, should terrify its mystery and ominous. As is known, attempts to disturb the peace of those characters do not bode well. To recall the history of the expedition, Lord Carnarvon, opened the tomb of Tutankhamun …
Film of 1981 Dawn of the Mummy turned moderately interesting and frightening. So, first things first.
To the best interest of DM because having a rather unusual story, somewhere in the first 2/3 movie, the action takes place deliberately slowly, bearing in itself unusual. New York, photographer and model, a trip to Egypt for a photo shoot, a meeting with Tomb Raider, the desire to get rich past, and of course, set free the evil. In brief the whole story.
Standard, but captures attention.
Pleasing to the eye, in my opinion, not bad Performed interior decoration of the tomb, and the fact that a lot of action scenes take place on the streets of the Egyptian film adds even more realism.
But towards the end of the film, the creators gave it to the full. Dynamic finale is one of the ornaments of the Dawn of the Mummy. Especially since the ending is not only exciting, but also scary.
Frightening movie in the first place not bad for 1981, with make-up effects. Since we are in the picture is a mummy, this character is really impressive. Tremendous growth, image three thousand monster coupled with good make-up, looks very ominous.
Screenshots:
Download: