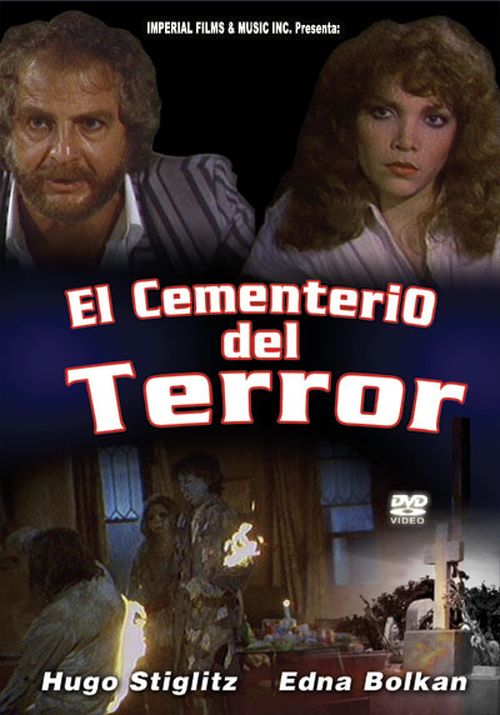 Year: 1985
Duration: 01:31:15
Directed by: Ruben Galindo Jr.

Actors: Hugo Stieglizt, Jose Gomez Parcero, Bety Robles

Language: Spanish (English sub)

Country: Mexico

Also known as: Cementerio del terror, Zombie Apocalypse, Gogerian, Friedhof der Zombies

Description: The film "Cemetery of Terror" 1985 Mexican director Ruben Galindo Jr.. , I found quite by accident, looking for some interesting trash . As a result, the picture was kind of a remake of the famous " Evil Dead ", while conceding much to his American master and degree of gore , and the general level of production. Though the film as a whole was very good thrash .
Directing the film is very weak and tense moments in the movie a little while " Nightmare on Cemetery" impresses primarily for its atmosphere , which is really very creepy . Work operator Rosalia Solano creates an atmosphere of anticipation in the picture of something unexpected and terrible .
The plot of the film can not be called original, most of the characters actions paintings sin lack of logic , and the story itself is closer to the finale starts to slip , more slipping into cliches . But as the film is representative of trash , it is possible to forgive
Acting in the film as a whole is not bad and that it leaves after viewing paintings positive impression as an eerie soundtrack Chucho Zarzosy .
I recommend this movie to all fans of thrash and classic horror . Although the film can not be called a masterpiece , for the interest it is quite possible to see .
Review: René Cardona Jr.'s favorite actor Hugo Stiglitz hits his all-time low in one of the most inane Mexi-horrors I have yet seen, and I'm not sure if I mean that as a compliment. This is a copy of US teen horrors but of course with some Mexican insanity thrown in, meaning (even) worse acting, (even) more brainded plot, one of the worst musical scores ever and, yes, more gore. How someone can call this film "atmospheric" or "gem" is beyond me, IMDb comment above is quoted just for the humor value. I have seen this tired old story at least dozen times before and even the worst of those films were at least a bit better than this. Hell, even the little kids in this film manage to be even more annoying than little kids in Z grade horror films usually are, and wtf they were doing in the film anyway?
From Cemetery of Terror / Grave Robbers Double Feature released by Deimos Entertainment (R.I.P.) Deimos DVD is a flipper, Grave Robbers is on the B side. If you want to get that film
Screenshots:
Download: