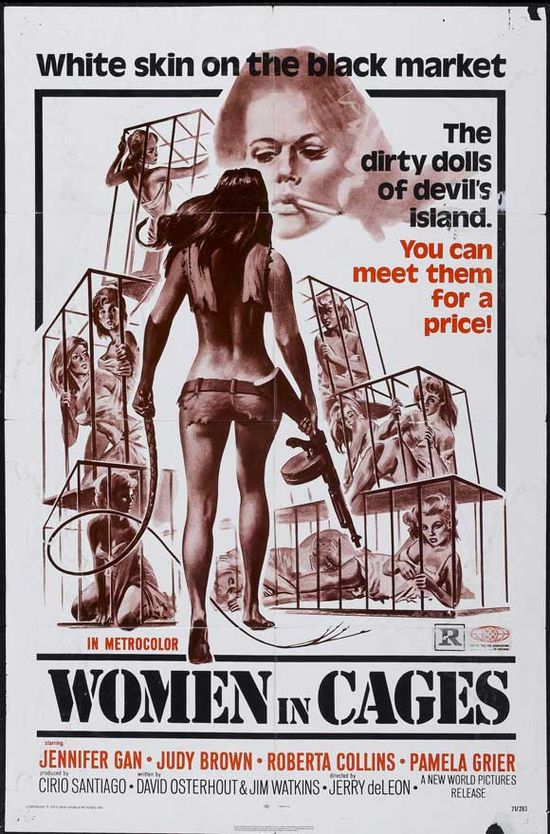 Year: 1971
Duration: 01:21:09
Directed by: Gerardo de Leon
Actors: Jennifer Gan, Pam Grier, Judy Brown, Roberta Collins, Bernard Bonnin, Charlie Davao
Language: English
Country: USA
Also known as: Bamboo Doll House, The Playpen, Femmes en cages, Rivelazioni di un'evasa da un carcere femminile
Description: Jeff had no idea that her boyfriend Rudy tightly linked to organized crime. Once he gets to the police with a large dose of heroin, but manages to slip it in the Jeff's bag. Police arrested the girl, and Rudy convinces her not to betray him. Jeff convicted and sent to serve her sentence in the women's maximum security prison. She gets into the camera with three other inmates and is facing with fierce woman boss of Alabama prison …

Review: Widely regarded as a classic in the genre, "Women in Cages" eschews the majority of traditional exploitative elements in favor of a solid plot and enough bare breasts to keep soft-porn connoisseurs satisfied.
The film stars Jennifer Gan as Jeff, an American visitor who, as is customary in these films, falls victim to her underworld-kingpin boyfriend Rudy's nefarious dealings.  After being sent to "Carcel del Infierno" for a period of 10 years for being the unwitting recipient of Rudy's heroin parcel, she endures the standard treatment in prison: strip searches, torture and the head matron's victimization and abuse.  There, Jeff is introduced to her cellmates – and the audience's other protagonists – Sandy, "Stoke" and Theresa.  Sandy, played by the lovely Judy Brown who reprises a role similar to that in "Women in Cages"' predecessor, "The Big Doll House", is an American citizen who was incarcerated for 20 years for killing her husband.  "Stoke", as is her moniker, is also American and a heroin addict.  Always on the lookout for an opportunity to get her fix, she is frequently seen undergoing withdrawal symptoms. Theresa, a native of the nation, seemingly The Philippines, is a favorite of the de-facto warden/Head matron Alabama, much to the chagrin of Sandy and Stoke.
While not the sole focus of the film, cult figure Pam Grier puts on a convincing performance as the grim, sadistic Alabama.  Released in 1971, when race tensions in America were still high, the black Alabama lording it over her white and brown prisoners was perhaps quite relevant in the post-Civil Rights era as it reversed the white-master/black-slave dynamic.  Indeed, Alabama keeping all her prisoners barefoot, in squalor and forced to perform hard labor furthers the slavery comparisons.
Alabama had it out for the white American prisoners, and Sandy, Stoke and Jeff would be tortured in her sardonically named "play-pen".  Sandy literally had a flame in her loins, Stoke was spun like a centrifuge and Jeff was given the electroshock treatment.  These moments of action and eroticism, along with the constant sight of their bare feet, gives the film a rather classy, though violent, sensuality that is missing in most WIP films, where nuance is replaced by canned dialogue and forced lesbian stereotypes.
Along with Alabama's violent assertion of her authority is the undercurrent of betrayal between the foursome that permeates the film.  This is most markedly shown by Stoke, who, like Jeff, had dealings with the notorious Rudy before being sent up the river.  Her addiction is her first priority, and she strikes a deal with one of Rudy's associates, Jorge, to kill Jeff to prevent her from ratting Rudy out, in exchange for heroin and an early release.  Her numerous attempts fail, including poisoning a sandwich, trying to push her into a knife wielded by Theresa, placing a snake on her while she was in slumber and finally by throwing some acid on her while Jeff was in the hole.  Despite her dopey demeanor, Jeff somehow manages to emerge unscathed, but never suspects Stoke's involvement.
The inevitable escape sequence is also exciting, if a tad fortuitous, as evidenced by Alabama successfully finding the escapees in, of all places, the punishment "Hole".  There was no indication at all that Alabama was on to their plan, as they didn't have one in the first place.  If one overlooks the minor convenient plot turns, however, the escape is quite entertaining.  The girls, using Alabama as hostage, eventually exact their revenge on her by tying her up to a tree, where she and Theresa were eventually ravaged by bandits as Stoke, Jeff and Sandy escape.  The movie concludes with Sandy and Jeff safe from the clutches of the underworld, Rudy the victim of multiple gunshots and Stoke working as a prostitute on the large ship, the "Zulu Queen".
With roughly three-fifths of the movie taking place in the prison and the rest for the escape sequence, there is enough here to satisfy all.  No pussy shots or hardcore action, but if you wanted that, why not just watch a real porno?
Screenshots:
Download: