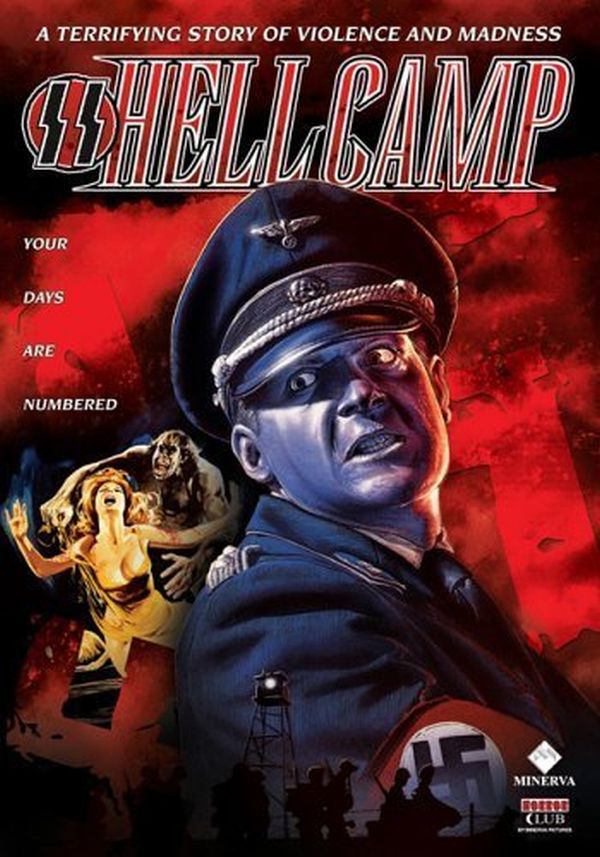 Warning! A lot of blood, rapes and tortures. Watch it for your own risk!!!
Year: 1977
Duration: 01:24:17
Directed by: Luigi Batzella
Actors: Kim Gatti, Salvatore Baccaro (a.k.a. Sal Boris), Brad Harris, Macha Magall, Xiro Papas
Language: English
Country: Italy
Also known as: La bestia in calore a.k.a. SS Experiment Camp 2, Horrifying Experiments of the SS Last Days , Beast In Heat, Bestia in calore ,SS Experiment Love Camp 2, SS Experiment 2
Description: Somewhere in the Nazi occupied Europe organize the repression of the local population, to find out where the guerrillas are hiding. The basement contains a Nazi breeding wild monsters created by an SS biologiney Frau Crash. They throw women, in order to satisfy his insatiable sexual appetite.
Review: Lousy movie. I realized from the very first frame. It is disgusting in all its manifestations – the plot, the acting, and so on and so forth plot – somewhere in the mountains of crazy fascist girls throwing some overgrown psychopath who raped them, and then, as I understand it kills. Meanwhile the crowd erupts rebels to the castle, and in the end a crazy fascist overgrown and confusing people die. The acting is terrible! All replayed in some places, are inappropriate or that emotion (if, of course, still present) …
In short, "The Beast in the heat", also known also under the name "SS Hell Camp" and "Technaya Bitch" – the most disgusting film ever horror films. Never, under any circumstances, not to watch.
Review #2: Rare garbage. To learn how to create a secret laboratory SS certain human tumor – a monster who raped to death by young girls. Why do they do it, except for fun, I did not find out – time sorry. But at the same time rewind all spent, and, if interested, to report: at the end of a female doctor, who conducted the experiment, already will experience the "greatest pleasure" and will be in the hands of this, if I may, fuck machine. In addition there are some fascist partisans (presumably, Italian – or whose production?).
The film is made very poorly, although it is clear, the crew hanging out on the full. Here and female sex organs with electric cables connected to them, and the scene of castration (filmed, by the way, for this film is pretty puritanical) and other amenities, understandable only to fans of "Thriller" and some works of Takashi Miike (like "Full Metal Samurai "and" Idzo "). And if you suddenly …. No, do not even think about it. Trust me on the floor.
Screenshots:
Trailer:
[flashvideo filename=/wp-content/uploads/Video/SS_Hell_Camp_Trailer.MP4 /]
Download: