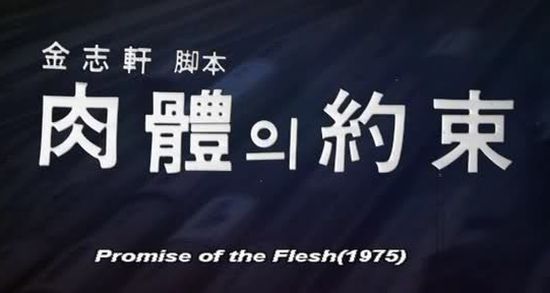 Year: 1975
Duration: 01:44:58
Directed by: Ki-young Kim
Actors: Jeong-il Lee, Ji-mee Kim and Am Park
Language: Korean (English subs)

Country: South Korea

Also known as: Yukcheui yaksok
Description of movie Promise Of The Flesh: Mild-mannered and modest Sook-young looks like your usual middle-aged woman, but happens to be a man-killing murderess. On a train trip to Mokpo, she remembers an earlier trip as a prisoner on furlough accompanied by a menacing but kind butch female guard. On the train they meet Hoon, a young man who falls for Sook-young. The guard lets them be alone at a bizarre marriage in a hill-top graveyard.
Convicted murderer Hyo Soon is granted a short leave from prison to visit her mother's grave. On her way, she meets a man named Hun whom she feels an instant connection with.
The two soon share an intimacy that goes beyond the sexual level. They plan on escaping but Hyo Soon backs out and returns to jail with the promise that they join again two years
later. Two years zoom by and Hyo Soon is released from the prison. Anxious to see Hun, she hurries to meet him, but will Hun show up for their sweet reunion?
Some others film made in Korea – Missing and Revenge in the Tiger Cage which you can on this blog
Screenshots:
Download: