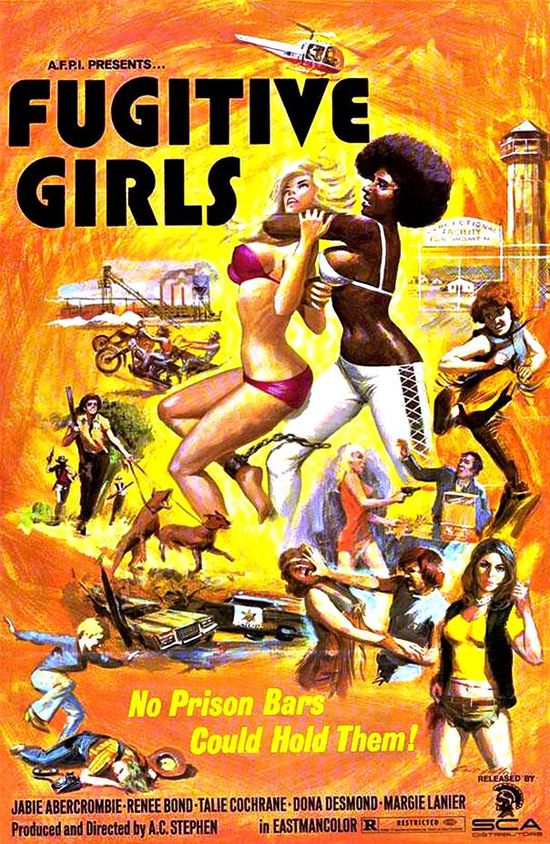 Year: 1974
Duration: 01:29:10
Directed by: Stephen Apostoloff
Actors: Jabie Abercombe, Renee Bond, Talie Cochrane, Dona Desmond, Ed Woodg, Margie Lanier, Forman Shane
Language: English
Country: USA
Also known as: Five Loose Women, 5 Loose Women, Hot on the Trail, Women's Penitentiary 8,
Description: I present, for your viewing pleasure, "Fugitive Girls". A very "famous" flick from WIP explotation genre.
But in the movie world of A.C. Stephen and Ed Wood Jr., all is not well for Dee.  After being left behind unconscious at a liquor store robbery  where the clerk was killed by her boyfriend, Dee is taken to a women's correctional facility.
But Dee may be leaving soon, for she arrives during the final preparations for a jail break planned by her four fellow inmates.  You see, Toni (the lovely Rene Bond) has $500,000 stashed away and they plan on escaping to retrieve the stolen loot.
So they escape into the outside world, full of very rapidly alternating light and dark scenes,  cliche driven dialogue, and not-so-vicious viciousness.
Once you get past the few flaws in this film, it is a pretty decent film.
Written by A.C. Stephen and Ed Wood Jr., and directed by A.C. Stephen with Ed Wood Jr, as assistant director (under the name Dick Trent), Fugitive Girls has also  been released under the titles "Five Loose Girls" and "Hot On The Trail" .
Screenshots:
Trailer:
[flashvideo filename=/wp-content/uploads/Video/Fugitive_Girls_1974_trailer.flv /]
Download: