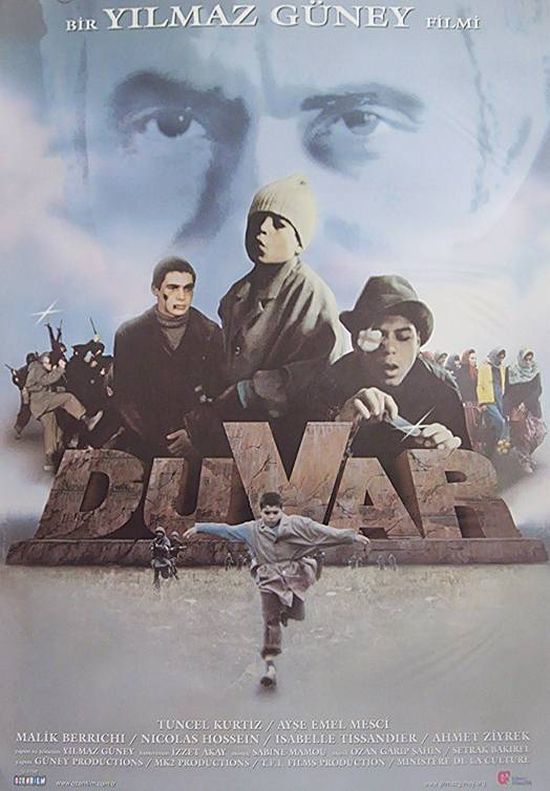 Year: 1983
Duration: 01:51:30
Directed by: Yilmaz Güney
Actors: Tuncel Kurtiz, Ayse Emel Mesci Kuray, Malik Berrichi
Language: Turkish | French
Country: Turkey | France
Also known as: The Wall, A fal, Die Mauer
Description: Story of the film Duvar is about a group of Kurdish teenagers and children, prisoned in maximum security jail in Turkey for what they have been involved in the struggle of the Kurdish people for independence. The film tells about the realities of Turkish prisons and how the authorities in any way coerced prisoners, even the innocents ones, by saying that they are guilty. Teens understand that they have only two choices – either try to escape, even under threat of death, or wait for a chance to be transported to some better prison if they cooperate with the administation.
Review: The revelation of the greatest Turkish artist who about a third of the forty-seven years he released his life in prisons and military penal battalions, having, between stints, to demonstrate their talent in an unprecedented variety of popular movies, remember vivid roles in films, dramatic scenarios, becoming the director of the most successful paintings of Turkish cinema.
Kurd by birth, he had throughout his life carry the burden of violence and harassment experienced humiliation and violation of all human rights, so that later, a cry of the soul pierce their audience films.
All the action "Duvar" takes place inside a Turkish prison, where, by the will of fate, life flows of different people. Prisoners, security and power. Alienation, isolation and violence, the more stringent and hopelessness, the younger prisoner.
Güney focuses on younger, he demonstrates the impotence of the weakest, despair of powerlessness, living hope for accidental escape. Prison life, friendship, deception, humiliation – all in living persons and shocking scenes, not for the timid eyes. In analogy with a concentration camp – to call the director of power and the regime, the charge of an offense and the call to fight.
Some other films from turkey – Azgin Bakireler and Gecenin katili Ustura
Forgive me banality Güney work force – in truth. In truth, that this director has experienced the hard way, and throughout his short life, the truth of the human right to life, honor and conscience, in truth, to which he dedicated the film.
Screenshots:
Download: