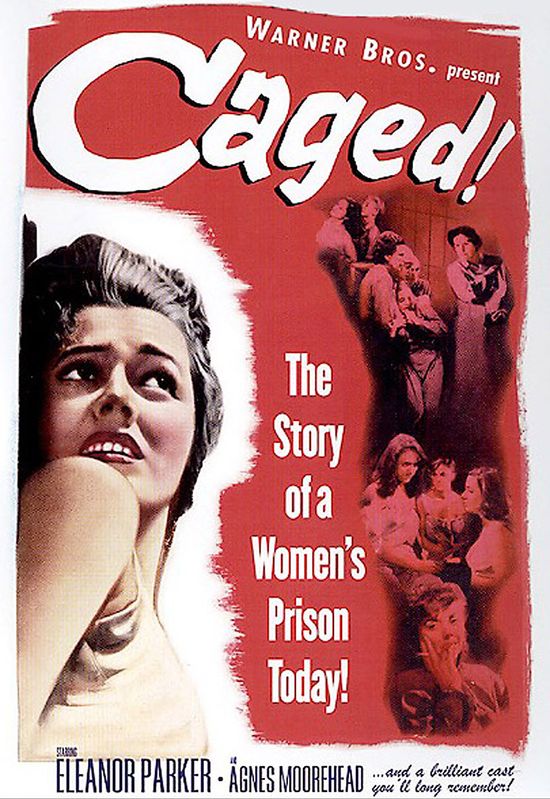 Year: 1950
Duration: 01:36:30
Directed by: John Cromwell
Actors: Eleanor Parker, Agnes Moorehead, Ellen Corby, Hope Emerson
Language: English
Country: USA
Also known as: Verlorene Frauen, Femmes en cage, Frauengefängnis, Prima colpa, Rautahäkki
Description: The Grandmother of Women's-Prison Movies. None of the in-your-face lesbian antics of many of its successors, but still works as a strong and disturbing drama, using innuendo, (rather than in-your-end-Oh!), to convey the usual message.
Fascinating black and white drama about a women's prison. Grim, uncompromising study of life in captivity. The script is based on real events. Tells about the terrible way down criminals. She refuses to dance to the same tune with the people inhabiting the "cage", drank the cup of suffering to the bottom.
Review: The name of this movie, I happen to know from some foreign websites dedicated to the film noir. I drew a poster and story telling about the realities of women's prison at the time. At first I thought that the whole film will be all sorts of bullying the main character, as in most modern pictures of such subjects. But luckily the plot began to develop in a more ambitious way, does not focus only on the main heroine. It was interesting to learn how these problems were presented at the time. Now after tapes with similar subjects dime a dozen.
The plot tells the story of a naive young girl of 19 years was jailed for complicity in the robbery and that is later provided to pregnant, gets into a contingent consisting of: authority, prostitutes, thieves, and just naive women, was jailed for men to use them in their own dark purposes. Cruel and sales supervisor, all power-hungry and money. And the heroine to take the difficult road in this zoo.
All actresses perfectly capture images well remembered even episodic characters. But separate commendable: Elianor Parker, who managed perfectly convey the image of the heroine, Betty Garde – "Queen Bee" and Hope Emerson – to embody the image cruel and cynical caretaker. Good directing and cinematography. All the Oscar nominations are fully justified. Honestly surprised so few people looked a the film, although he had three Oscar nominations.
In my opinion an excellent prison drama, unjustly forgotten in our time.
Screenshots:
Trailer:
Download: