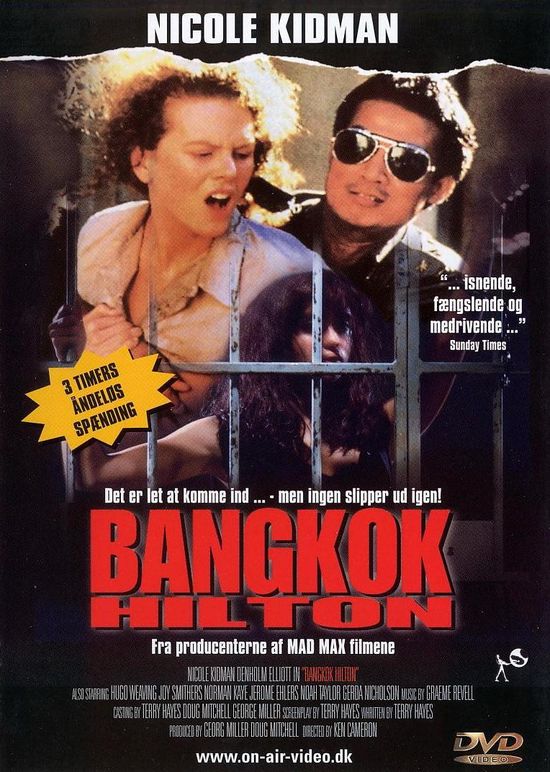 Year: 1989
Duration: 03:31:24
Directed by: Ken Cameron
Actors: Nicole Kidman, Denholm Elliott, Hugo Weaving, Joy Smithers, Norman Kaye
Language: English
Country: Australia
Also known as:
Description: Australian woman Kate Stanton is looking for her father. But on the way home from London she gets … in Thailand, where she met with a certain photographer Arch.  Not seeing nothing wrong in using a new friend, Kate takes part of his baggage, in which customs officers found drugs. And in this country, drug trafficking is punishable by death. Kate straight into a horrific jail with mocking name "Bangkok Hilton". Now, her life, her freedom – in the hands of a lawyer and unknown to her well-wisher who joined the exhausting battle with ruthless local authorities …
Review: It all started when I watched "Australia" with Nicole Kidman. And then my mind flashed: "It was also a movie, too, Nicole, also of Australia, adventure. In our TV shows when I was little. But naturally I see not given: it is time to sleep, early tomorrow to school. And then I – a small, offended at all girly, promised herself: become an adult – must see this film. Dreams Come True! To my surprise, I found it easy to "Bangkok Hilton". Sat down to watch – and could not tear myself away from the screen all night, looked through all the series in a row. And, you know what I think? Maybe it's good that as a child I did not see this movie? Would still do not understand, but would spoil the first impression.
"Bangkok Hilton" – is a great example of a mini-series of the highest quality, with a constant voltage, the dynamic development of the plot, where there is no "sagging" of the moment.
The plot of the film was originally built in a classic case. Man with mnozhestvoim names exile meets a woman throughout her life, but they were not destined to be together. However, they have a daughter, Katrina (Nicole Kidman), who after the death of the mother is trying to find his father, whom she had not seen once in my life. The search path of Katrina – Australia – England – India – Thailand. On the way, Katrina meets handsome photographer Arch, which is taken to help the girl in her search, and they quickly tied romantically involved. But when they get to Thailand, the plot sharply "dives" to the side, and surprised the audience sees is a new film in which a false accusation Katrina gets into the worst prison in Bangkok. And now the only person who can save Katrina – it's her father. After all, Katrina was in the same prison where during the war spent 4 years imprisonment by her father. It is in this hell of Katrina – hitherto pretty, too trusting girl, turns into a fearless, strong spirit of man, which nothing can break. Katrina will fight for justice, for freedom and for their lives. And survive. But in this fight, it does not lose its goodness and love, constant readiness to help people.
Screenshots:
Download: