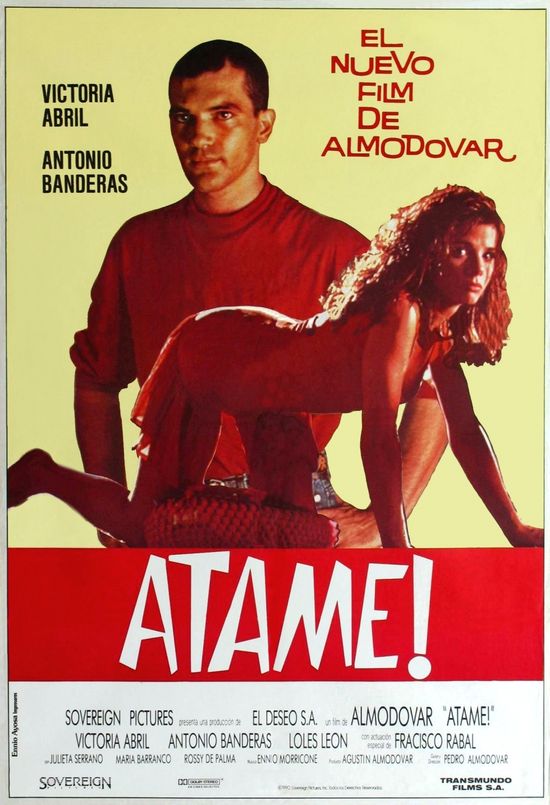 Year: 1990
Duration: 01:40:53
Directed by: Pedro Almodóvar
Actors: Victoria Abril, Antonio Banderas and Loles León
Language: Spanish | English Subtitles
Country: Spain
Also known as: Tie Me Up! Tie Me Down!, ¡Átame!, Ata-me, Ata-me!, Attache-moi, Attache-moi!, Bagla beni, Bind me vast!, Bind meg! Elsk meg!, Bind mig! Tag mig!, Bind mig, älska mig!, Bind mig, elsk mig!, Dese me, Feßle mich!, Kötözz meg és ölelj!, Legami!, Sido minut, ota minut, Spoutej me!, Vezi me!, Zvezi me, Zwiaz mnie
Description: With a firm determination to create a healthy family 23-year-old mental hospital's former patient Ricky (Antonio Banderas – Imagining Argentina) kidnaps an actress Marina (Victoria Abril – Mother Dearly Beloved), on the last day of filming. From all the feeling and view of the apparent resistance, he squeezed hera little bit and tightly binds to the bed. Brutal violence brings unexpectedly generous fruit in the form of a response to his feelings from Marina.
Review: As you know, Pedro Almodovar's films are a complex synthesis of genres, among which there are certainly elements of drama, comedy, farce, and much more. Only vary the proportions in which all of the above is presented to the viewer. By browsing "Contact me" I'm ready for anything: a thriller, a drama, but does not expect to see one hundred percent comedy, farcical and extremely funny. Judging from the work that I saw in the director's all right with a sense of humor, but here it is fully demonstrated his comedic talent.
One story is worth: the graduate psychiatric clinic, a nice young man named Ricky, found to be healthy and get a ticket to the world, goes straight to the famous porn actress to offer her hand, heart, and happy family life.
Screenshots:
Download: