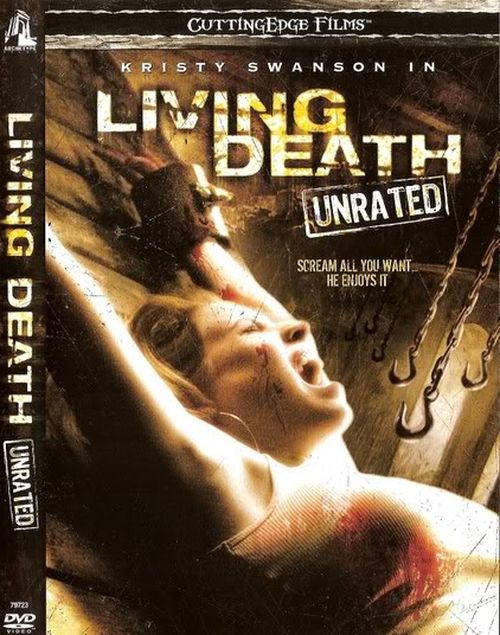 Year: 2006

Duration: 01:21:31
Directed by: Erin Berry
Actors: Kristy Swanson, Greg Bryk and Joshua Peace
Language: English
Country: Canada

Also known as: Venganza del otro lado de la tumba
Description: Depraved millionaire, Victor Harris, satisfies his sadistic and sexual instincts, causing injury to others in the personal dungeon. Very easy buying his mutilated victims with money and his lawyer Roman, he has no idea that his beautiful wife Elizabeth and Roman made ​​a deal.
They decided to poison the bloodthirsty monster, writing off his death on drugs and get his money. But deadly plan is failing. Fatal accident only deprives Victor's mobility, he retained his ability to see, hear and feel. This was enough for distraught brain to jump out of a coma. Avoiding his death, angry sadistic killer is luring in a hidden camera his wife and lawer…
Review: As a result the Living Death became a sort of motley crew came in which bumbling "cook" the director added just a pinch of all of the above, although I had to choose just one thing though. In general, in the abstract actually narrated the entire plot of the film, although it served as an intriguing tie. Contrary to the expectations of the movie is almost no blood or any torture, just barely showing favorite toys of the owner. Psychological stress is for the viewer mainly in the fact that he sits and waits at last begin a bloody revenge.
All in all very formulaic character types: rich blase man, hating his father, stereotypical blonde with big breasts and unhappy face in the role of his wife, it is vague in nature, "a family friend" (which, in theory, should show the opposite of the main character, to be thinner, more attractive , sleeker and smarter). The ending is too predictable, and some crumpled.
Screenshots:
Download: