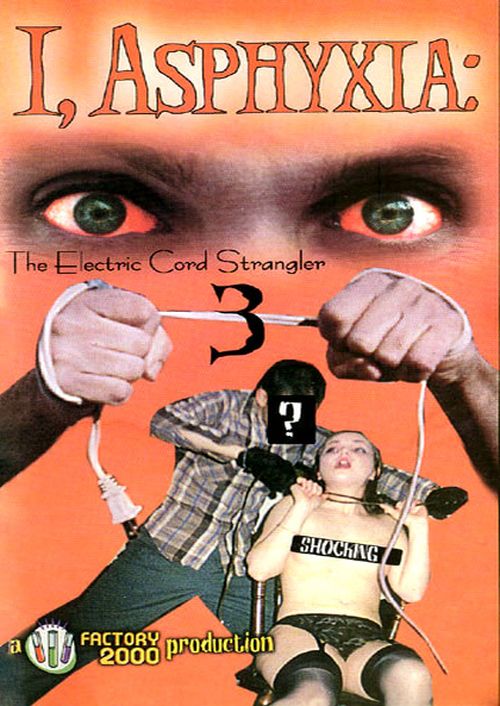 Year: 2000

Duration: 01:26:42
Directed by: William Hellfire
Actors: Liz Bathory, William Hellfire, Henry Krinkle
Language: English
Country: USA
Also known as: I, Asphyxia: The Electric Cord Strangler 3

Description: Unfortunately, I don't have ELECTRIC CORD STRANGLER 2, so I can't say for sure whether this is "picking up right where ELECTRIC CORD STRANGLER 2 left off." However, it's kind of hard for me to imagine, at the rate parts 1 and 3 go, that too much happened in the interim.
Hellfire comes roaring out of the gate with this one, gang, and from the opening sequence I was sure I was in for a bona fide masterpiece. The film opens to find Hellfire's Electric Cord Strangler sitting in some basement somewhere, thinking about something. Creepy ambient music plays as the film flashes to blearly slow-mo video of Hellfire again, sporting a completely different haircut which places him around the time of DUCK! THE CARBINE HIGH MASSACRE, pulling a tampon out of a vagina in video slow motion which frequently reverses, sending the bloody tampon sliding back in again. This weird collision between fetish filmmaking and avant garde video art left me hoping we might get something truly incredible with this one, but alas, after the opening titles (which are just computer printouts on plain what paper taped to a wall), things settle down into another lurching snooze-fest.
Seemingly to make up for the intense interest generated by the first sequence, Hellfire goes for broke with boredom in the scene immediately following the titles. A girl is lying in bed, dreaming of being strangled, and in an almost unfathomably exhausting 20- or 25-minute sequence, we intercut between her writhing around in bed and her dream, with Hellfire strangling her on the same bed. All the while this fucking cat wanders around in the background.
Finally, after nearly a third of the movie is already over, the girls wakes up and heads into the living room. A crucifix on the wall is supposed to evidence that she is a devout Christian, but rings rather incongruous with the DAWN OF THE DEAD and EXORCIST posters adorning the apartment walls. The girl hears a knock on the front door and pulls it open to find everyone's favorite character form ECS1, Joey Smack, looking for solace. Apparently this is his sister, and he's come to her for comfort after suffering the horrors of ELECTRIC CORD STRANGLER 1, and, presumably, 2. Aside from the brilliant gonzo opening, Smack's improv dialogue scene here is probably the film's highlight, as he babbles on semi-incoherently about seeking Jesus' love, but also wanting drugs and blowjobs. "If god loves me and wants me to be happy," he keeps beginning, following it with a request of invariably outlandish hedonism. It's fun watching Hellfire and his ne'er-do-well friends poke fun at sacred cows, and it gives these sequences a gravitas the rest of the film sorely lacks.
Well, Bible Girl heads to the bathroom after welcoming Joey into her apartment with open arms, and who should appear while she's nudely caressing herself in the mirror but good old Hellfire, who magically pops up behind her and begins choking the life out of her. Apparently content simply to molest, he disappears again after she passes out, leaving Smack to find her sprawled out on the floor. He's been keeping the horrific events of parts 1 and 2 from her to spare her some of the emotional trauma, but now he lays everything bare (so to speak) in a couple of extended flashbacks (that is, FILLER).
I'm assuming the longer scene that follows possibly comes from the missing ECS part 2. In much the style of part 1, it features a couple of girls, one of whom wanders off leaving the other ripe for the strangling. Sure enough, Hellfire appears and is quickly binding, tickling and strangling as usual. Things repeat with the second girl, though in both cases things get a little roughened up with some electric cord electrocution at the climax that puts both of the girls on ice for good. We then flash back again (even further back in time for some reason) to Misty's tickling and strangling from the end of the ECS1, though this is thankfully a pretty short sequence.
Back in the apartment, as is usual during every situation Joey seems to be involved in, the two victims seem to determine that everything is probably fine and the ECS isn't going to come back (despite entire films' worth of evidence to the contrary!), and Bible Girl heads back to bed (apparently all she does is pray and sleep) while Smack wanders off somewhere. I don't have to tell you who comes waltzing in the door soon after…
When ECS3 cooks, it really cooks. Unfortunately, like Bible Girl, it's only functional about 10% of the time, and beyond that settles for profound lethargy. Whereas the strangling scenes in part 1 had a certain creepy real-time verisimilitude, here they're just protracted to the point of exhaustion, and Hellfire is hobbled by the fact that he only seems to have one girl to work with in his entire cast. The inclusion of 20 to 30 minutes' worth of padding doesn't help matters either, and if I had seen ECS2 before this, I probably would have been really pissed. ECS3 has its creepy fetishistic moments, but, despite having a tiny more narrative and style to it, it somehow lacks the interest of part 1, and it's probably best the series, as it were, died out here. Presented for your pleasure ripped from a vintage VHS tape, which may not look amazing but helps give it that skuzzy vibe you've come to expect.
Screenshots:
Download: