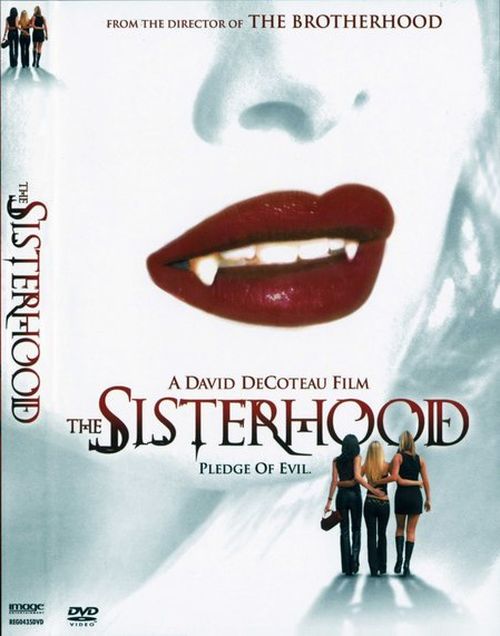 Year: 2004
Duration: 01:21:45
Directed by: David DeCoteau
Actors: Barbara Crampton, Jennifer Holland, Michelle Borth, Storm David Newton
Language: English
Country: USA
Also known as: The Sisterhood: Pledge of Evil, Giovani vampire, I adelfotita
Description: Considered the lesbian pseudo spin-off to the Brotherhood series, this flick is about a lesbian (or bisexual?) vampire that corrupts a college sorority. There are lots of scenes of lesbians making out, bisexuals making out, and some ladies running around in their underwear.
When I discovered this film whilst investigating the career of Jennifer Holland (whose breasts, sorry, I mean acting, impressed in one of the crappy DTV American Pie sequels) I was quite excited and immediately came here to get it.  I mean, lesbian vampires, IMDB of 2.5/10, multiple reviews which all seem genuinely outraged by the quality … has to be on my site, right?  But no..
I was upset, but overall still upbeat (lesbian vampires, remember) … obv buying it was out of the question, so I took to the wider internet to find a copy.  It proved somewhat difficult, and this version is partly my own work – it combines the video from a nice looking foreign language version ripped by agost (thanks agost!) and the audio from an English lang version whose video froze every second or so (thanks nameless, not-too-concerned-by-quality person!).
Yeah, that's right, I actually spent a few hours of my life tempo-shifting and syncing an audio track for this.  After it's happily seeding away I probably need to take a long, hard look at myself … enjoy!
Screenshots:
Download: