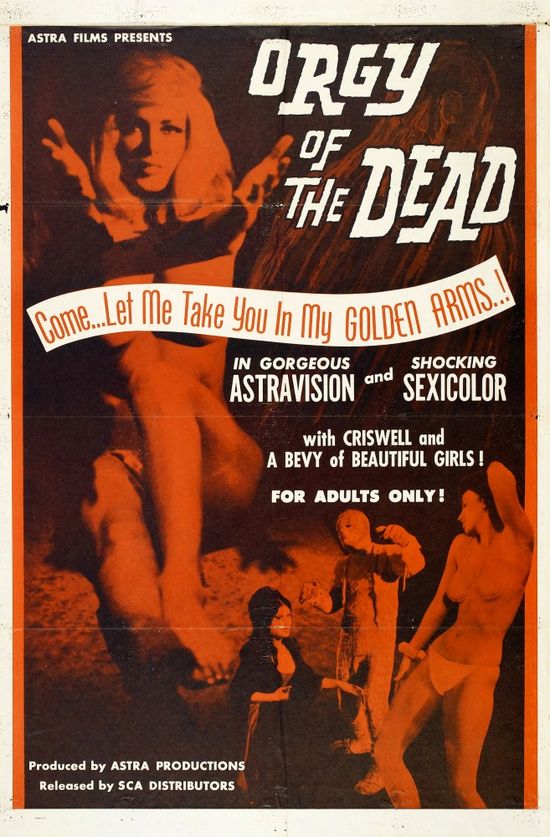 Year: 1965
Duration: 1:30:44
Directed by: Stephen C. Apostolof
Actors: Criswell, Fawn Silver, Pat Barrington
Language: English
Country: USA
Also known as: Orgy of the Vampires
Description: A horror story writer is out of ideas for his next work. Desperate for inspiration, he decides to visit a cemetery along with his girlfriend hoping to find a neat story idea. Their search doesn't begin well as they crash their car. Things further worsen when they encounter the dancing dead at a graveyard and are taken prisoner. Forced to be a part of the full moon ritual, they miserably count down the hours to their fate.
No orgies in the film. There is only infinite dancing girls come out one after the other and flexing naked in front of the camera under the light of the composition of folk, jazz and other fashionable trends. If not for the smoke and `scary` mystical atmosphere, then we can decide what we watch record TV shows where you'll see some bad dancers 60's. But these dances do not occur with simple. It turns out that the `tortures of the damned`, which should bring torment the main characters. And the main characters suffer strained along with the audience on the other side of the screen. As no orgies, no here and dead. Or, at least, they are carefully disguised (except, of course, the wolfman and the Mummy), that is, neither pigmentaria skin, no neatness, no different from ordinary people. But once we say it is dead, we must believe with the experience and monitor everything that is happening.
What did manage Voodoo duck is to find his movies really interesting people. An aging Dracula (Bela Lugosi), Swedish wrestler tor Johnson), TV presenter loser (Vampire) — all of them, once worked with him in the hope that someday ed fortune, and with him will be glorified and they. But, as we know, only not many have lived up to the moment when suddenly, ridiculous characters and stupid plots have become cult products, and incompetent Director has got a wide range of fans. In this film no longer `old guard wood`, and it means nothing, but again, you see charming predictor Criswell, and `miss new Vampire` which dilute its flavor repetitive action.
At the end of the film, we see a sharp and unexpected (by virtue of its absurdity) the ending of a film because each film something must end. Wood moved to color film, but not changed his principles. However, in the `Orgy of the dead` not used `trick` which he thought was 100% his invention — newsreels are mounted with artistic photography. We immediately see that instead of wood Tinker with another Director.
Screenshots
Download