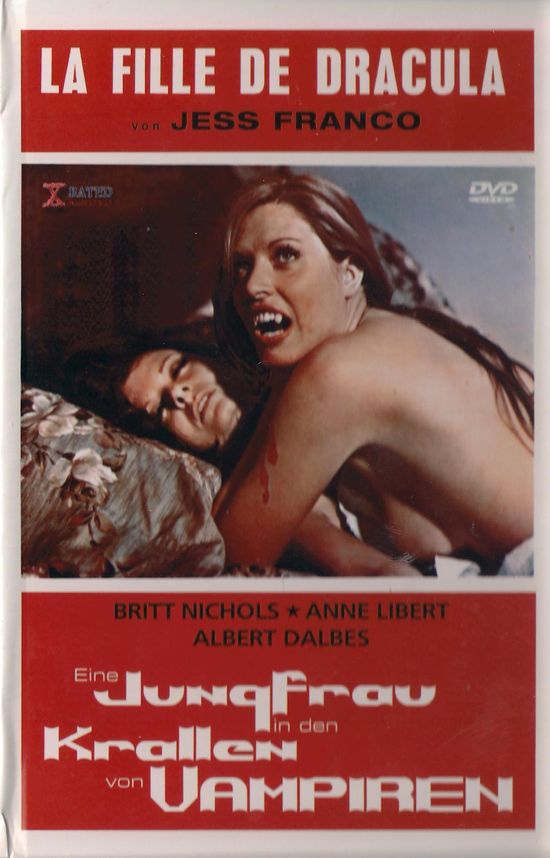 Year: 1972
Duration: 01:18:58
Directed by: Jesus Franco
Actors: Britt Nichols, Anne Libert, Alberto Dalbés, Howard Vernon
Language: English
Country: USA
Also known as: La fille de Dracula, Dracula's Daughter, A Filha de Dracula
Description: Erotic and dreamy horror film by uncle Jess, vaguely plotted and beautifully filmed, starring two gorgeous babes like Britt Nichols (the main actress in the such movies like The Demons and Christine, Princess of Eroticism) and french brunette Anne Libert (Diary of a Nymphomaniac) making out in some great lesbo sequences, and of course Franco goes deep into it.
Maybe it's just Franco's romantic eye but really, all gets dream-like and sleazy in this man's hands. The Giallo influence makes it for a nice touch, as well as the obvious Universal reference and Hammer's homage. Actors Daniel J. White and, especially, Albert Dalbes as the Inspector Ptuschko and Fernando Bilbao as the nosy reporter add some cool moments. The score by White is just fucking awesome! Anyway… you'll be snatching this mostly for the girls. Probably.
Jess plays a great role in here as Cyril Jefferson, the Karlstein family's secretary, a true believer on the dark mysteries of the night…:evil:He has a well suggested relationship with Yelena Samarina's character, must say she brings to her role a bit more than I could've expected. The great Howard Vernon plays the Count Dracula himself (again) and with such a deranged expression, lying on his coffin the entire flick…
You shouldn't expect incredible plot coherence or big action-driven scenes, it's indeed unsuspenseful. Actually, those are some of the best moments, relying in Franco's visuals (out of focus, zoom-ins), the eroticism and altered state of mind this movie leads you. Some people say this one's just a dull trash, I don't think so. Great atmosphere here, this is another cool one from Jess.
Screenshots:
Download: