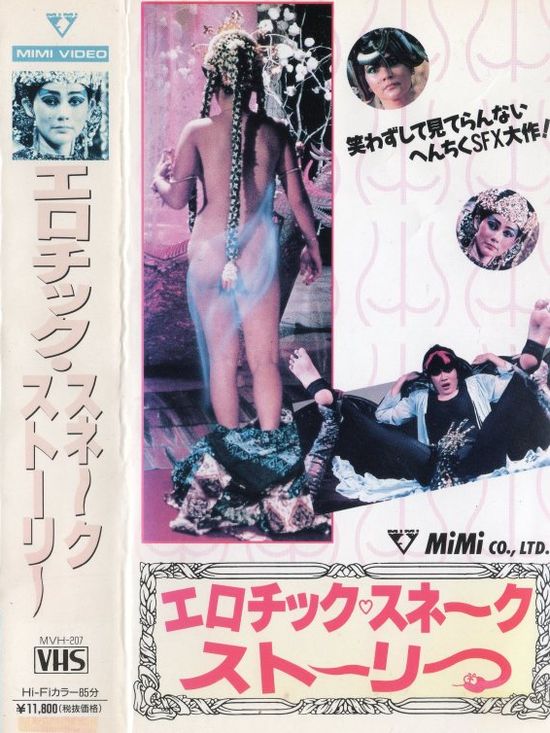 Year: 1986
Duration: 01:24:12
Directed by: Sisworo Gautama Putra
Actors: Suzzanna, Advent Bangun, George Rudy
Language: English Dub

Country: Indonesia

Also known as: Petualangan cinta nyi blorong
Description: 
As enchanting and hypnotic as it is bizarre, 1986's HUNGRY SNAKE WOMAN proves to be the ne plus ultra of Indonesian horror cinema. Packed within its scant 83 minute running time are spectacular murders, exotic locations, action (both the chop-sockey and machine gun variety) and an overhanging choice of colorful style and sensuality as only Indonesia can offer. Coupled with an amusing amount of genre standbys such as schmaltzy dubbing and bizarre dialogue, HUNGRY SNAKE WOMAN emerges a film that cannot be ignored, and required viewing for avant-garde horror fans.
In the first five minutes alone the film assaults the eager viewer with a breathtaking royal procession of the titular mystic. Adorned with golden chains and fine silk and piercing the screen with brilliant eyes, the legendary snake woman recalls a traditional Bangkok dancer stranded far from home. Shrouded in garish gel lighting (actually more reminiscent of Tobe Hooper's cartoon lighting in EATEN ALIVE than Bava's work) and entombed in a spectacular cave, one never doubts her awesome presence. Neither does our anti-hero, Brian. In search of riches beyond his imagining, Brian seeks out the snake woman, hoping she can fulfill his lust for wealth. But she is not willing to shower Brian with riches without requesting a ghastly task: he must kill three women, drink their blood, and "dine upon their breasts" all within a week, no less. In true low-rent movie fashion, Brian agrees without a second thought to this beastly endeavor and sets out on his murderous rampage.
When Brian acquires his first victim, the film truly comes into its own. Not only does he kill the women, but Brian also sucks their blood in the grand tradition of Bram Stoker's most famous ghoul, adorned with gag fangs and sucking their blood from their neck! Completing the Dracula charade is a black cape with a stiff collar (which looks like it had too much starch at the Laundromat). And in a hilarious wrinkle in the oft-filmed Dracula myth, this Dracula can put his enemies down for the count (no pun) with a kung fu grip! Yes, it seems that Brian has frequented a nearby Shaolin temple, as he offs many assailants with kung fu tactics. Much of the film's appeal is its enthusiastic melding of many world cinematic trends, such as the European tales of Dracula (and the Hammer Horror films) with Hong Kong martial arts.
But it isn't that simple. Before Brian first sets out to visit the snake woman, he happens upon a native witch, Nila Jong. Indeed she is a sight to behold, with her lower half tapering off into a snake, which slithers and writhes around Brian as he is enchanted by her words. Kindly pointing him in the right direction by hurling him from her Boa constrictor-like grasp (!), Brian begins his journey to meet the snake woman. When Brian soon finds out that he must sacrifice a relative to seal the demonic deal, Nila senses his pathos and offers an alternative: turning on the snake woman and destroying her. Nila promises Brian the same riches that the snake woman has, but with an appealing lack of mortal consequences. In addition, Nila will be able to settle a long-time score between herself and the snake woman. So Brian agrees to slay her. In order to do so he must make love with her and then drive a pin through her heart. When he succeeds, Brian (and the people around him) becomes an unwitting pawn between the two mystic heavies.
One of many dazzling sequences the doomed love scene between Brian and the snake woman easily deviates from expected horror themes. The scene is both majestic, with silk veils and flickering colored lights complementing her beauty, and tense with the ambiguity of the outcome (will he succeed or won't he?). Here the camera takes a life of its own, whirling around the sensuality and simulating the carouselling bed, ostentatiously encircled with golden statues. A scene to savor, indeed. In fact, it is hypnotically romantic scenes like this that seem to suggest that Hong Kong filmmaker Ronnie Yu may very well have been inspired here when he made his similarly romantic and dreamy BRIDE WITH THE WHITE HAIR.
But horror fans shouldn't run away scared. Indeed the film showcases a refreshing amount of bizarre and occasionally gory murders. Not surprisingly, Brian's savagery is nowhere near as fascinating as his supernatural superiors' bouts of fury. Disgusted by an impious follower, the snake woman brutally skewers him via a spear magically lifted by her own hands. She then allows her servants to dine upon his corpse, resulting in a grisly shot of a nibbled human skeleton that could fit quite well in a Lenzi or Deodato cannibal opus. But by far the most dazzling and inventive death is that of the father of Carlita, Brian's girlfriend. Eager to prove her prowess and to usurp her power from the fallen snake woman, Nila bestows upon Carlita's father a deathly curse. Upon her incantation, he begins to vomit up centipedes (strangely anticipating Keith Li's 1988 Hong Kong horror THE CENTIPEDE HORROR and also reminiscent of the infamous "mouse vomiting" scene in 1981's MYSTICS IN BALI) and in addition, in true ALIEN fashion, his chest explodes. But instead of a ghastly Giger creation prying forth from the open cavity, a demonic snake (resembling a dragon) leaps forth. Truly an astonishing scene that further solidifies the film's title of being one of the best Indonesian horrors.
Unfortunately, however, the film simply cannot be taken seriously and thus may be damned as a cheap horror excursion. Helping in that cause are some true howlers in the dialogue (in the aftermath of Brian's murder, a man reading the story in the newspaper tells others: "Her blood was sucked out. Then he bit off her tits." He then arbitrates "He must have been hungry"). The score is equally bizarre and erratic, never seeming to make up its mind. During the murder scenes, a heavy metal guitar provides a weird dissonance to the goings-on, and at other times the score is of the more traditional synthesizer variety that plagued so many of these films.
Somehow, however, it works. In fact, it works beautifully. Eager to shed its clichéd skin, HUNGRY SNAKE WOMAN goes for the full-on approach of loading the viewer down with striking imagery, bizarre logic, and sometimes astonishing brutality. But possibly the film's most unifying factor is its insistence to be a veritable melting pot of world cinema. In the climatic battle alone we are treated to Greek mythology (via a CLASH OF THE TITANS-like medusa head), action/gunplay and gory horror (a splashy chainsaw murder). Add to the pot a dash of kung fu and a pinch of Euro horror, stir vigorously, and the outcome is one strange brew indeed. But it never tasted so good.
Screenshots:
Download: