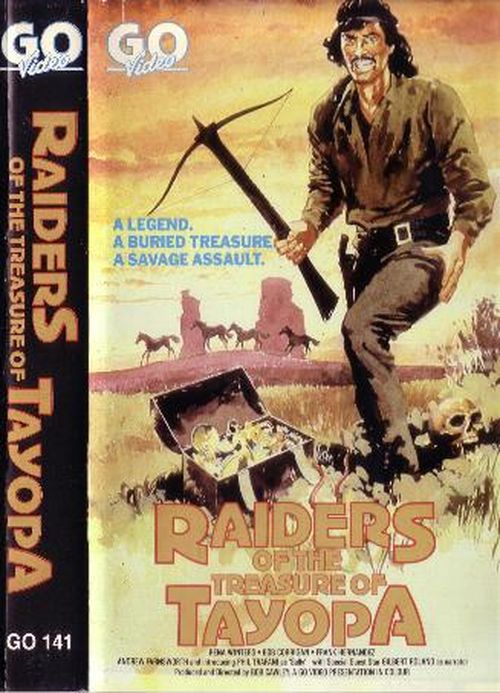 Year: 1974
Duration: 01:21:59
Directed by: Bob Cawley
Actors: Gilbert Roland, Rena Winters, Phil Trapani
Language: English
Country: USA
Also known as: Raiders of the Treasure of Tayopa
Description: In a land that seems to have stand still since the time of the Old West, a group of modern days desperadoes search for a treasure.
Facing the dangers of nature and the tension born inside this group that has a woman in their midst, they go forward disregarding the curse that is said to lay upon the treasure!
Treasure of Tayopa! The film that has it all! There's violence, intrigue, stereotypical Mexican banditos, a guy named "Sally", incessant flaminco music, and more shots of the sun than you can shake a film school diploma at. What more could you ask for? Former western star Gilbert Rolland shows up (as himself) in segments that bookend the film, where he says things like, "As the wind whistles down the mountains…it says 'Come. Come to Tayopa.' " And PLEASE don't reveal the "shocking" "twist" ending of…Treasure of Tayopa.
This is a weird one, folks. Despite the saddles and six guns, this film really isn't a western, but more of an adventure film with a very early 70s vibe. Imagine unknown[21479] meets TREASURE OF THE SIERRA MADRE and you have a pretty good idea of what this film is like. It has a very "experimental" feel to it that makes up for a lot of it's shortcomings. I certainly found it to be a better film than it's 2.9 rating on the IMDb would suggest.
Screenshots
Download