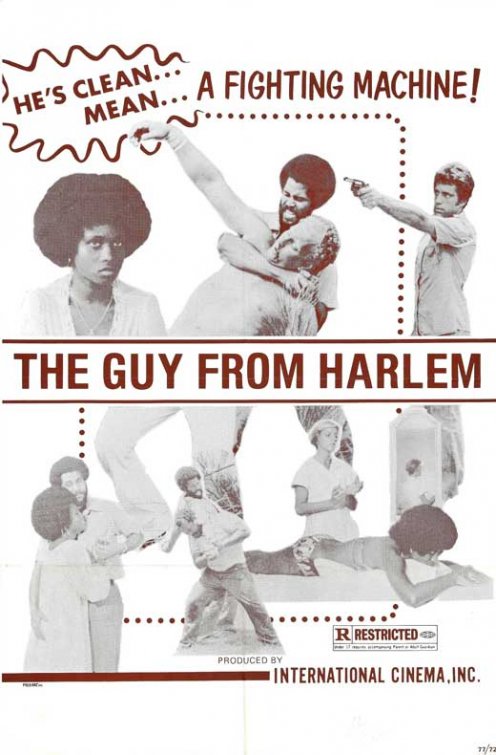 Year: 1977
Duration: 01:29:37
Directed by: Rene Martinez Jr.
Actors: Loye Hawkins, Cathy Davis,  Patricia Fulton     .
Language: English
Country: USA
Also known as: 
Description: Cool street private investigator al Connors who works in Florida but originally hails from Harlem is hired by the CIA to guard an African Princess during her visit. Moreover, Connors enlists the aid of his boys from the street and their fierce fighting skills to find another woman, who was kidnapped by the evil "Big daddy"
The Guy from Harlem is the first blaxploitation film we've ever riffed. Why? To quote the temperamental yet ultimately quite sensitive gangster Harry De Bauld, a character you will grow to love as much as we do – "well, it's…it's kinda personal." Okay it's not actually personal at all, it's just that the movie is really, really funny. It trades most of the sleaze, grime, and, well, exploitation that you expect from the genre for dopiness, sexual situations that fail to lead to actual sex, a clumsy confused sweetness, and more botched lines per minute than anything we've ever seen.
As you'd expect from the title, The Guy from Harlem is set entirely in Miami. The makers of Casablanca almost used the same approach, with early drafts titled The Dude from Somewhere Other Than Casablanca. It's the story of private eye and titular Guy, Al Connors. Al's a man with such a reputation that when it's time to protect an African queen/princess/wife of a chief of state (her title changes pretty much every time it comes up) the CIA goes straight to his dingy shag-carpeted office and begs for help. Later, when gangster Harry De Bauld's daughter is kidnapped by the sinister Big Daddy, and his own criminal organization is just "too upset!" about the whole thing to deal with the situation, where do you think he goes? That's right. To the guy who's the best at being from Harlem there is, baby.
Join Mike (what you say?), Kevin (that cat's a bad duuuude), and Bill (get on down!) for The Guy from Harlem!
Screenshots
Download