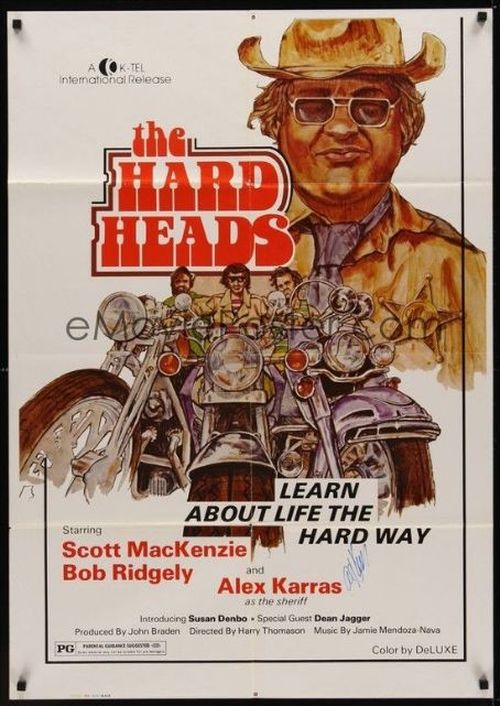 Year:1974
Duration: 01:21:35
Directed by: Harry Thomason (as Harry Z. Thomason)
Actors: Scott McKenzie, Robert Ridgely, Willie Jones
Language: English
Country: USA
Also known as: The Hootch Country Boys | Redneck County (reissue title)
Description: Malcolm starts a trip to cross the country on a motorcycle.
He gets a companion by saving a young black man from being attacked by a biker gang.
And after that he gets some help out of difficult situations by befriending a stunt airplane pilot addicted to moonshine.
And that is just the beggining of the adventure!
945MB x264 OF HARRY THOMASON's 1974 HICKSPLOITATION FILM, REDNECK COUNTY (AKA THE GREAT LESTER BOGGS AKA THE HARD HEADS) STARRING SCOTT "SAN FRANCISCO" MCKENZIE, ROBERT RIDGELY, WILLIE JONES, DEAN JAGGER, ALEX KARRAS AND SUSAN DENBO.
IT'S ORIGINAL TITLE IS THE GREAT LESTER BOGGS BUT THIS VERSION HAS THE VHS PACKAGING AND TITLE CARD OF REDNECK COUNTY WHICH WAS THE US VIDEO RELEASE.
HORRIBLY BAD, SOUTHERN HILLBILLY SLAPSTICK IS AIMLESS FROM THE GET GO. RELEASED A BUNCH OF TIMES UNDER A BUNCH OF DIFFERENT NAMES, THE QUALITY IS WASHED OUT AND FADED AND THE AUDIO IS SHODDY BUT IT'S A HARD ONE TO GET A HOLD OF.
BESIDES, IT'S WORTH WATCHING FOR THE OPENING SEQUENCE ALONE — A SLAPSTICK MOTORCYCLE CHASE IN WHICH A GANG OF RIDERS HIT A HAY TRUCK, A WOMAN CARRYING LARGE BAGS OF GROCERIES AND TWO MEN CARRYING A LARGE PANE OF GLASS IN QUICK SUCCESSION, THREE STOOGES STYLE!
Screenshots
Download