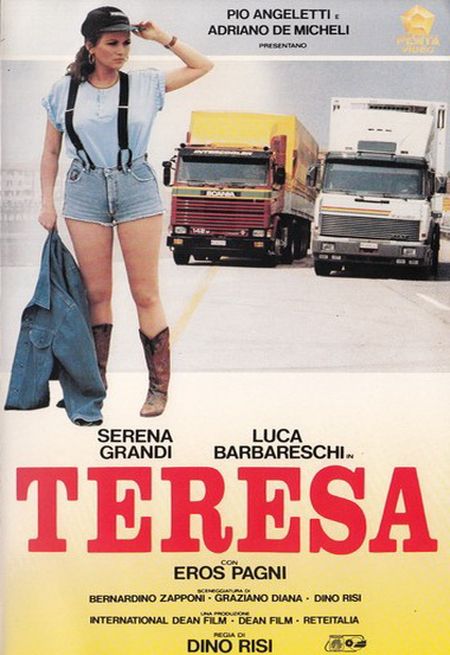 Year: 1987
Duration: 01:35:24
Directed by: Dino Risi
Actors: Serena Grandi, Luca Barbareschi, Eros Pagni
Language: Italian
Country: Italy
Also known as: –
Description: When Teresa's husband dies she only inherits debts. In order to pay them she must assume her husband's place as a truck driver.
She will have to avoid the moves fellow male drivers make on her, for she is still a very attractive woman. While working, she begins a steamy love affair with an experienced driver that helped her with her new job. But the debts are too big and the truck owner demands her to marry him to settle them. Things will settle at the altar, but not in the expected way!
Left plot suddenly a widow, Teresa, a young Romagna provocative and sensual, she discovers that her husband, who owns a truck, had a large sum of money to Nabucco, a rich and mature business man of few scruples. This man, in love with her, tries to marry her, blackmailing him with the promise to erase the debt. But she bravely decides to remain independent and to work herself with his truck a short time to repay the creditor. To succeed, it takes an expert to help truck driver, the young and attractive Gino was born between the two soon love stormy, full of bickering, jealousy and mutual separations, alternated with periods and fans happy. While business is often bad for several accidents, to complicate things appear other suitors Teresa, a Sicilian Mafia boss, soon killed, and an elderly German baron a little 'faded mind. After a while Gino and Teresa have been away from each other for the usual arguments, the woman finally decides to marry Nabucco, always in love and faithful. But the wedding day, during the ceremony, Gino comes to recover the love and tears at the last minute to the desolate rival.
Critics' It sounds strange but it is Serena Williams to keep up, not only with its attributes, this story of love with the smell of naphtha. Risi was able to recite it. Barbareschi incredible, Pagni caricature. " (Laura and Morando Morandini, 'Telesette')
"Serena Williams trucker? Everything is possible in the realm of Italian comedy. And it is also possible that Dino Risi, a master of the historical genre has distracted to the point of having a movie and thought to have created another. Much more ugly" . (Francesco Mininni, 'Italian TV Magazine')
Screenshots:
Download: