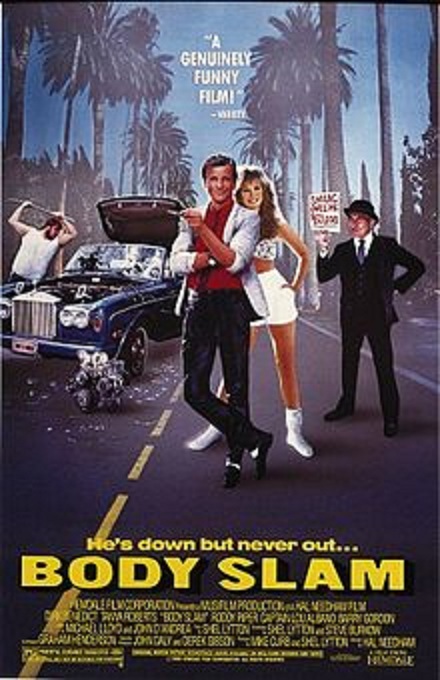 Year: 1986
Duration: 92 min.

Directed by: Hal Needham

Actors:  Dirk Benedict, Tanya Roberts, Roddy Piper
Language: English
Country: USA
Also known as: Rock e Boxe, Verschwitzte Körper, Trzaskajace sie ciala

Description: M. Harry Smilac is a down-on-his-luck music manager who is having a hard time attracting talent and booking gigs for his band, Kicks (The most recent of the gigs is a Dairy Queen opening!!). When making arrangements for a campaign fund-raiser, he mistakes Rick Roberts, a professional wrestler, for a musician and hires him. At that moment he becomes a wrestling manager and starts to book matches for him and his teammate Tonga Tom. The team is a success, and Harry decides to take his wrestlers and his band on a "Rock n' Wrestling" tour. The tour is a success, and Harry feels what it is like to be a winner again.
 Although this movie is quite dated (as is evidenced by Dirk Benedicts awesome 80's-style pleated leather pants at the beginning of the film) it is still a good representation of how the old wrestling territories/promoters used to operate before the WWF/NWA/WCW took over and essentially eliminated the need for them.
The movie is a nice time capsule if you were into wrestling in that era, and that is all. If you weren't a fan of wrestling, then you will find nothing of this movie that would appeal to you whatsoever (outside of the still smoking hot Tanya Roberts who looks AMAZING in this movie). It is about 1980's wrestling and 1980's wrestling promotion – period.
Still, despite the obvious cheesiness that the movie exudes and its ultra-adherence to 1980's fashion/fads, it is still fun for the particular demographic of movie fan that would appreciate it. I remember watching this movie on a rainy, boring Saturday afternoon as a kid on a local independent station back in 1987/1988 and instantly loved the movie. I could only recommend it for the true wrestling fans out there, but not for anyone else.
Screenshots
Download