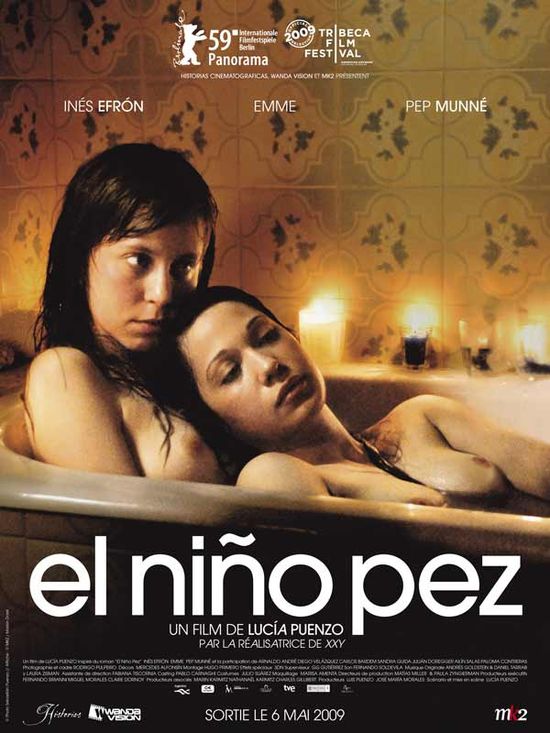 Year: 2009
Duration: 01:31:52
Directed by: Lucía Puenzo
Actors: Inés Efron, Mariela Vitale, Pep Munné, Diego Velázquez
Language: Spanish (English, Portugese subs)
Country: Argentina | France | Spain
Also known as: El niño pez, Fiskpojken, Das Fischkind
Description: "The Fish Child" is  the love story of two young girls. Lala lives in one of the most exclusive residential areas of Buenos Aires, Eileen is the maid. Their dream – to live together in a peaceful location on the lake. But the murder of Lala's changes everything.
Review: I do not like Spanish films because they are often too long and too dramatic, they are almost always consist of a lot of "water". "Fish Child" is perhaps the only spanish film which I watched with a big pleasure.
This Movie is about a sincere affection (love?) of  two girls – Lala and Eileen. So much feelings, so much experience of maturing Lala, her jealousy of Eileen to her father, and others. A sea of ​​emotions, desires, and passions.
Suddenly, her father died. Who is responsible? Maybe Eileen? The only salvation for girls is to run. Wander, hide. Just to be together. And nothing will stop them from doing so, even the prison. Even terrible moments of Eileen's past. I have never seen such a touching love …
This film is a drama, mystery, and romance. And the most beautiful moment of the movie: "We have a house!".
Screenshots:
Download:
The Fish Child AKA El nino pez