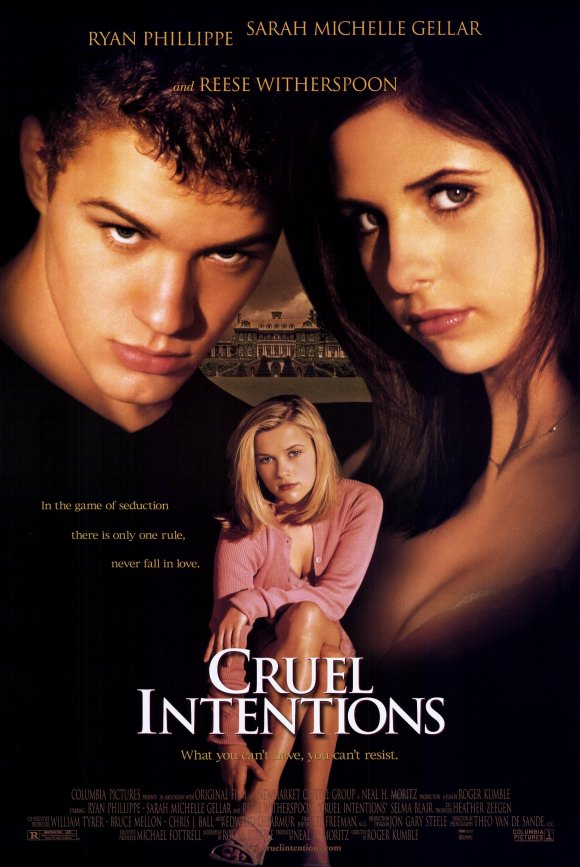 Year: 1999
Duration: 01:37:29
Directed by: Roger Kumble
Actors: Sarah Michelle Gellar, Ryan Phillippe, Reese Witherspoon, Selma Blair, Louise Fletcher
Language: English
Country: USA
Also known as: Eiskalte Engel, Juegos sexuales, Cruel Inventions, Sex Games, Un pari cruel
Description: Sebastian knows the sweet taste of easy victories. In his hands – other people's secrets and keys to the towering bedrooms. Catherine is tired of simple plots and banal confessions. Then modern Casanova and bored beautiful sister decided to play a new game. Their brutal game misses only the victim …
Review: "Cruel Intentions" – the film dramatic. It tells about the step-brother and sister. Together they plot various intrigues and organize violent games and spread gossips. In general – they are nasty people.
Sebastian loves Katherine and he even made ​​a bet with her to get some sex from her later. But something changed in his head when the victim became Annette Hergrou. He becomes a completely different person, and realizes that he in love with her. This is what we see in the film.
And there are other characters. For example, Cecil and Ronald. Cecil – a girl from a wealthy family, and Ronald – a music teacher. Here, then they fall in love. But the catch is it is Catherine, which starts here the same affair. Sebastian is one of the key parts, respectively, due to him at the Ronald and misunderstandings arise.
I liked the acting of Ryan Philippe (who played in Little Boy Blue) and Reese Witherspoon. I am a big fan of the latter, and therefore could not miss this film by their eyes. Sarah Michelle Gellar played such bitchiness girl who even do not want to see. Especially at the end in defeat, she cried. Break off their wings. Role she really stood out interesting.
That's just the end I really liked. Catherine stands with his speech, and then people present there, know the truth. Convict her of lying, and looking at her with such contempt that anyone would wish to be in her place. And here is the song The Verve – Bittersweet Symphony.
Screenshots:
Download: