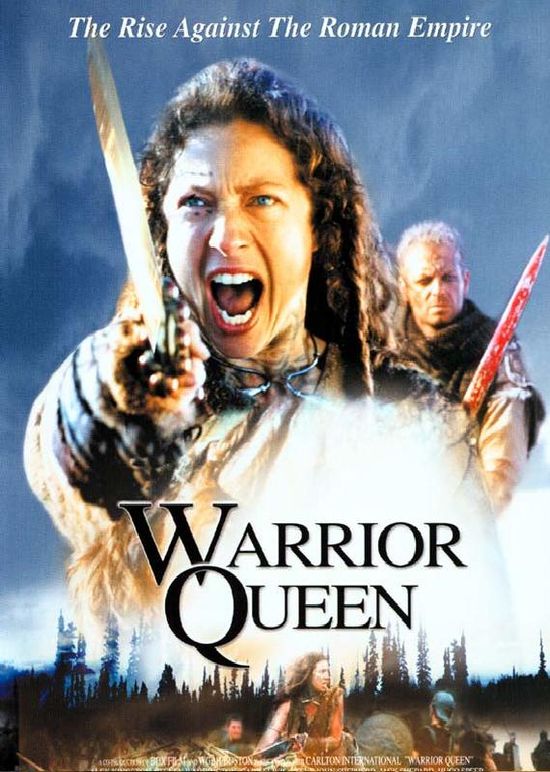 Year: 2003

Duration: 01:38:41
Directed by: Bill Anderson
Actors:  Alex Kingston, Steven Waddington, Emily Blunt
Language: English
Country: UK | Romania

Also known as: Warrior Queen, La reina de la guerra, A Rainha da Era do Bronze
Description: At the turn of the old and the new era ancient Roman legions invaded the Britain. At first, the invaders tried not to interfere in the affairs of the local Celtic tribes. But with the advent of the new Emperor Nero everything changes. He gives the order to once and for all crush the rebellious Celts. But the Romans had underestimated the strength of their spirit. Celtic Queen Boudica raises her people to fight against the mighty Roman Empire …
Review: The middle of the first century AD. Britain landed ashore Roman legionaries on the orders of Emperor Claudius, intelligent, but weak-willed and soft ruler. He wants to repeat the glory of Julius Caesar, who landed in Britain for a hundred years before. In relation to the conquest of Britain, he did it, the Romans settled there until late 5th century AD, but there were people who did not want to become just as slaves and serve Rome for allegedly comfortable life, he provided its provinitsyam, as well as his defense. A man and became Boudika. Great woman of the time.
She was the wife Prasutaga, the Iceni tribe leader, one of the Brythonic tribes. They lived in their own land, enjoying a pagan holiday and dispose of their property as they wanted. Until there is a Roman soldiers, who made clear that the Iceni tribe, as well as other tribes of the Britons, with Rome should share everything they have. And to provide slaves in the Roman use. Prasutag not want to unleash conflict as objectively understood that Rome would crush his tribe in his car if he does not agree to its terms. Finally Boudika her husband begin to live in a house built by the Roman model, drink water from the Roman dishes and wear Roman clothes. For Rome it gets what it wants. Boudika not happy with this, but to contradict the beloved husband does not want. For a while they lived quite peacefully, except their discontent tribe situation, raising two beautiful women-daughters.
Suddenly, not quite understandably Prasutag dies, with time to write a will, but it gives no Boudica and local Roman governor, so he wants to protect Boudica and daughters, but the result is the opposite. Boudika very saddened by the death of her husband, did not know what to do and how to live. Continues to cooperate with Rome, as did her husband. But when it comes weeping women, and talk about how the Roman soldiers took their daughters into slavery, her patience is over. She dresses beautifully, takes his daughters and went to the newly formed Roman city, home to the governor. She thinks she is the queen of the Iceni, but she was perceived as a weak woman. When Boudika starts to accuse Rome of excessive cruelty, the king shows her Prasutaga testament, in which his hand is written that all the possessions of the Iceni it divides in two, one leaves his wife and daughters, the second gave Rome. Boudika believe it can not, the governor called her daughters and mother of harlots and ordered flogged and raped daughters over to his soldiers. So he started the great revolt, underestimating Celtic strong woman, which is also the Queen to his people.
Screenshots:
Download: