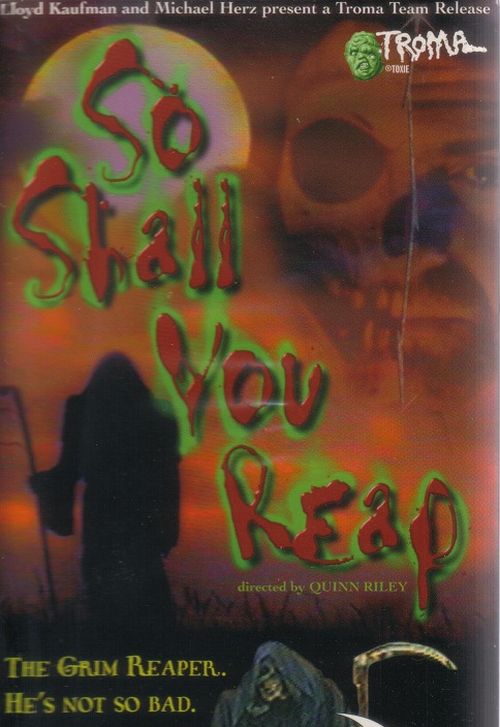 Year: 1999
Duration: 01:42:15
Directed by:  Quinn Riley

Actors: Michael Barclay, Tom Martwick, Michael Morgan

Language: English
Country: USA
Also known as: 
Description: Long forgotten Troma film about a detective who finds the Grim Reaper's book of death at a crime scene.  People's names appear in the book just before they die and as he tries to prevent a friend's death, he is tormented by the Grim Reaper himself.
The Troma Team is proud to present the wickedly dark horror comedy SO SHALL YOU REAP.
When rugged small-town detective Denny Mclaren (Michael Barclay) is called ot the scene of an apparent homicide, he finds a mysterious book bound in human flesh that contains not only the name of the victim but others who have died before.  Danny takes the book as evidence in a sick serial killing, until new names inexplicably appear in the book.  And then those people die! Peice by piece, Denny puts together the chilling puzzle that leads him to discovering that the book he holds in evidence is really the Necronomicon, the Grim Reaper's Book of death!
In SO SHALL YOU REAP, writer/director Quinn Riley serves up a horrific and suspenseful masterpiece of mayhem with the twisted sense of humor of EVIL DEAD 2 and the bone chilling thrills of Troma's MONSTER IN THE CLOSET and SCREAMPLAY.
Review:
Screenshots:
Download: