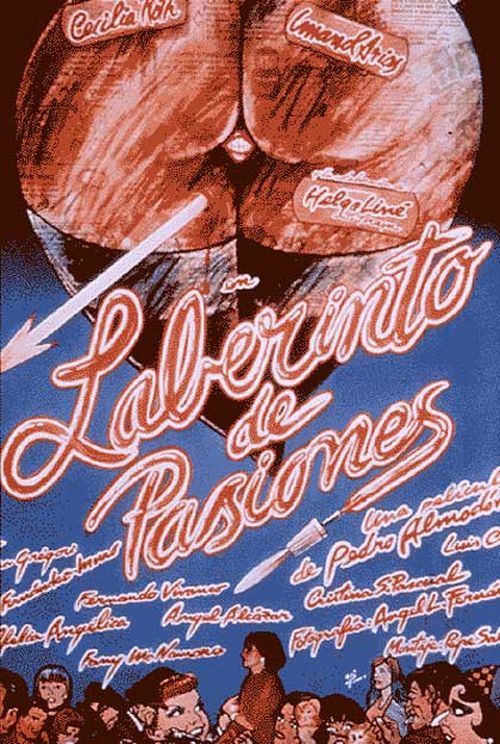 Year: 1982
Duration: 01:36:51
Directed by:  Pedro Almodóvar
Actors: Cecilia Roth, Imanol Arias, Helga Liné
Language: Spanish (English Sub)
Country: Spain
Also known as: 
Description: Spain, Madrid, 1982 . In a mad , extravagant metropolis arrives incognito Riza Niro – Iranian prince gay . And very soon he becomes The subject of passion nymphomaniac Seksili and former wife of the Shah and the Iranian revolutionaries hunted , wanting to see his head on a platter . Maze of human passions and doubts begin to twist and how to find a way out of it ?
The film " Labyrinth of Passion " in 1982 was the first real breakthrough for the then young director Pedro Almodovar . This film , combining the features of his story ekctsentricheskoy comedy, drama and existential erotic melodrama, is a typical picture of the director, in which there is a multilayered intrigue , bright absurd and extreme attention to all kinds of deviant manifestations of human nature, Almodovar removed without vulgarity or vulgarity. In fact , this tape tells the unusual story of love and evil passions and eternal human desire to confuse and complicate in my life.
Actors, as always with Almodovar , play great and special mention should be Imanol Arias , brilliantly played Rizzo Niro, Cecilia Roth , playing extravagant Seksili and Helga Line . Appears briefly in the film a young Antonio Banderas, for whom this film was the first notable appearance on the big screen.
I can not mention the camera work is also juicy Angel Luis Fernandez, created in the film grotesquely extraordinary atmosphere.
I recommend this movie to all fans of European cinema and art lovers Pedro Almodovar .
Screenshots:
Download: