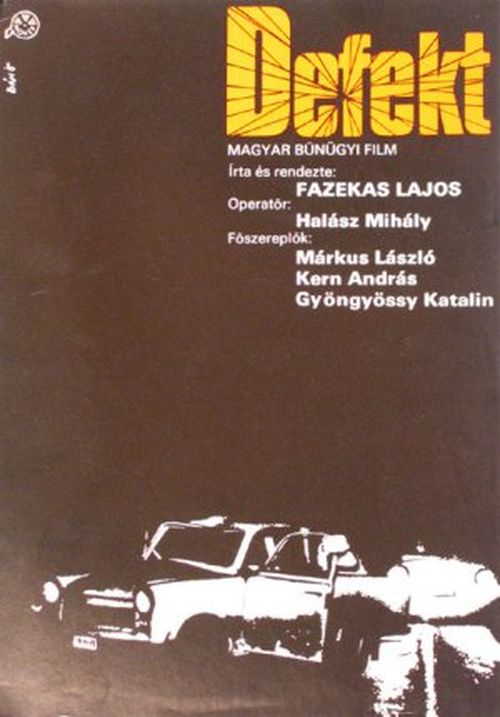 Year: 1977
Duration: 01:06:00
Directed by: Lajos Fazekas
Actors: Katalin Gyöngyössy, László Márkus, András Kern 
Language: English
Country: USA
Also known as: Eine Nacht des Schreckens
Description of Defekt movie:Gedeon is a young, ambitious detective. Three women have disappeared and he strongly believes that there's direct connection between them. All three of them were driving lonely and have disappeared in the same region. After a lenghty discussion Gedeon gets the permission from his boss for going on patrol with his colleague in that area.
Meanwhile the next possible victim gets a blowout on the lane in the woods. Because of the night, the rain and her smashed car she starts to find a safe, dry place. She finds a house in the middle of the woods where a man takes her in. To start with the man seems nice but later he attacks her unexpectedly… And even the house holds more surprises to boot…
Many competent and well-informed hungarian movie fans say this was the only hungarian horror film (a Psycho rip-off) from the socialist era. Allegedly the movie is based on true story which was tried to keep secret by the authorities that time. The movie was made in 1977, but it was presented only in 1982 and cost 2 million forints – that time that amount seemed bloody expensive.
The story is okay – despite of all the small faults.(Too much music, I think, just like a jazz concert)
The night, the rain, the forest and every nooks of the lonely house emit ominous feeling. The director and the cameraman use the perfect utilization of black&white colours , light and shadow for manipulation.
Review:
Screenshots:
Download: